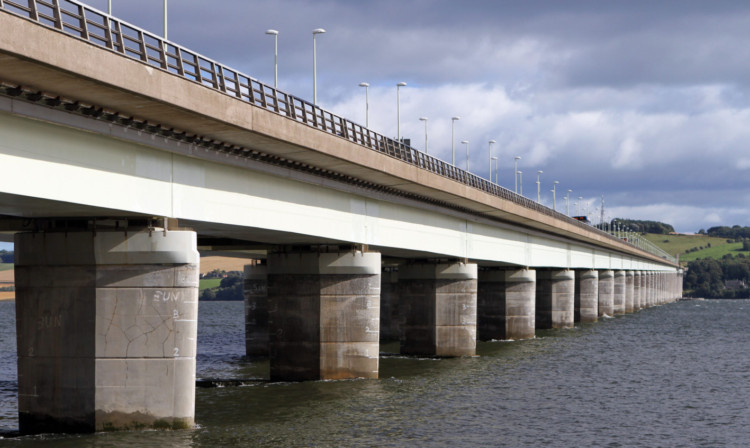 A worker on the Tay Road Bridge lost a leg while another suffered "terrible" abdominal and bowel injuries and almost lost a finger after being hit by a faulty high-powered water jet used to blast concrete.
Mark Sharples, who was 27 at the time, and Ian Davies, who was 40, were struck when the "extremely powerful" jet shot out of their hands in separate incidents, hitting Mr Sharples in the left buttock and Mr Davies in the knee.
The jet was so powerful it literally injected water and pieces of clothing into their bodies, causing massive damage to skin, bone, tissue and blood vessels, injuries described by experts as being similar to "ballistic-type injury".
Both men thought they were going to die in the incidents, which happened just a week apart in July and August 2007.
Both were rushed to hospital in severe pain, with the tip of Mr Sharples' finger partially severed.
Depute fiscal Gavin Callaghan told Dundee Sheriff Court the water jet's barrel had been shortened by Hydro Pumps Ltd of Fareham in Hampshire to below the manufacturer's recommended length and other modifications were also made to the jet, while the water pressure was almost double that of industry guidelines.
In addition worn threads on the shoulder butt of the water gun caused it to shear off, causing the second accident, the Health and Safety Executive found.
Mr Callaghan said in the first accident Mr Sharples had been blasting concrete with the jet in order to reveal ageing metal beams on the bridge pillars, which required replacing.
"He slipped on the debris building up around him and lost control of the high-powered jet, which then twisted round and the water jet penetrated into his abdomen.
"Mr Sharples thought he was going to die as he lay in the water and debris," he said.
He said doctors found nine perforations to his bowel and even one perforation could be life-threatening.
In the second incident Mr Callaghan said Mr Davies said the gun "buckled" and he fell forward.
The shoulder butt of the gun had become detached due to worn threads and he lost control of it. The water jet struck the side of his knee and he looked down and saw blood pouring out of his knee.
"He thought that an artery had been cut and that he was going to die," Mr Callaghan said.
He told the court Mr Davies' surgeons could not save his leg and he now walks with the aid of a prosthetic limb.
Both men have been compensated.
Hydro Pumps Ltd was fined £46,500 after admitting breaches of health and safety regulations.
Advocate Steven Love, for Hydro Pumps Ltd, said the company's managing director "offers his sincere and deeply-held regrets".
Sheriff George Way said: "This is not a case where Hydro Pumps were pursuing profit over safety.
"However, risks should have been identified and steps taken, or longer lances used and steps taken in other areas. In that, Hydro Pumps failed."