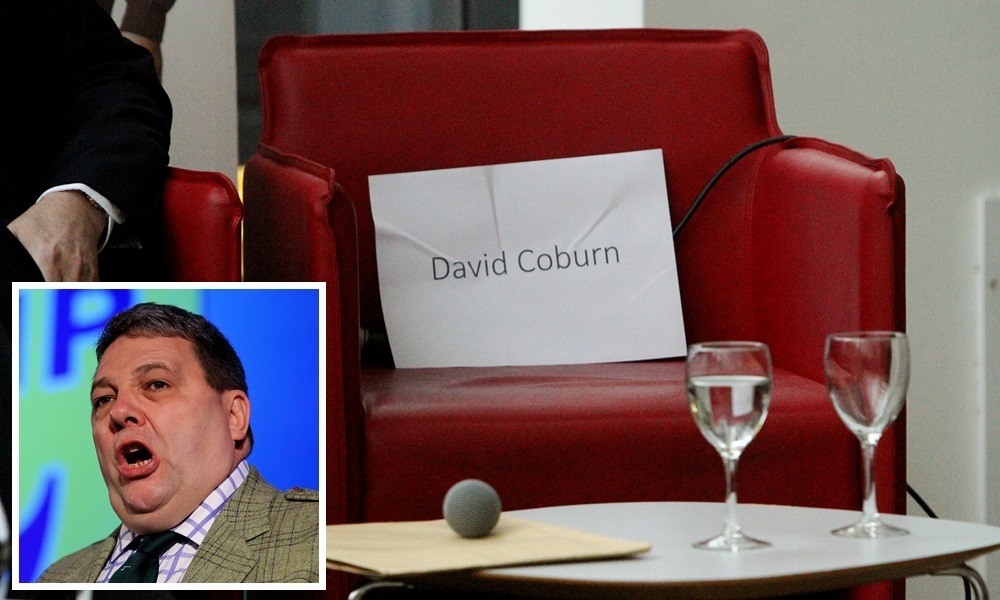 Ukip MEP David Coburn has been branded a "coward" after he ducked a debate at Dundee and Angus College amid a furore over racist comments.
The party's sole elected representative in Scotland was due to take part in a question and answer session with students alongside candidates from Labour, the SNP, Conservatives, Liberal Democrats and Greens.
However, he failed to appear, leaving an empty chair in his place just days after he spoke of sharing a panel with Scottish Government minister "Humza Yousaf, or as I call him, Abu Hamza."
Both the SNP and Labour have called on Ukip to sack Mr Coburn, but the party has so far resisted, with spin doctor Gawain Towler claiming Nigel Farage considered the remarks a "joke in bad taste".
Neither Mr Coburn nor Mr Towler responded to multiple requests for an explanation for the MEP skipping the event.
Chris Law, the SNP candidate for Dundee West, said: "David Coburn last week revealed himself as an offensive clown and now it turns out that he is a coward too.
"The people of Scotland will continue to reject Mr Coburn and Ukip's politics of intolerance on May 7."
It is understood Ukip was the first party to confirm they would field a candidate in the debate.
Student president Marc Winsland, who chaired Monday's session, made a barbed reference to Mr Coburn's failure to attend and his controversial comments during his opening remarks.
He said: "We contacted six parties and we have got five. The empty chair on the far right of the stage, which is no coincidence, is for David Coburn, who has not turned up. I can't understand why."
Mr Coburn has written an email to Mr Yousaf, which said: "I am very sorry that I have offended you as I clearly have. It was wrong to say what I did, even in jest. It was not something I am proud of."
Shadow Scottish Secretary, Margaret Curran said: "The views expressed by David Coburn are vile. It's no surprise he didn't show up in Dundee.
"Maybe he realises that he's not fit to speak on behalf of his party, or on behalf of the people of Scotland.
"Nigel Farage needs to take action and expel David Coburn from his party."