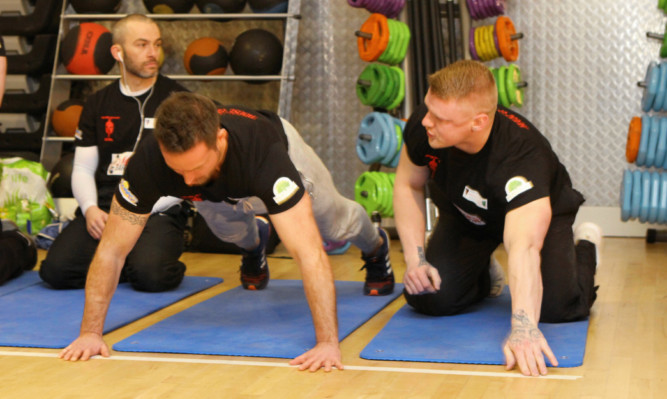 A team of Dundee men have smashed a world record by completing over 19,000 push-ups in four hours.
The nine friends, who all train together at the Fit4Less gym, raised more than £1,500 for Help for Kids as a result of the challenge.
This money will go towards getting Christmas presents for disadvantaged children.
After Saturday's feat, organiser Craig Guest, 31, said he was feeling "a bit tender".
The personal trainer, from Menzieshill, said: "Combined, we did a total of 19,579 push-ups.
"The aim was to do 21,000 but we were a man down, so we had nine people instead of 10 as was the plan."We still broke the world record, which was 17,700 by an American college team.
"We did consecutive sets of 25 push-ups, with a two minute break halfway, and a five minute break in the last hour.
"All of us are very active, but we're a bit sore after that."
The team of nine included: Craig Guest, Cameron O'Brien, Lewis Cannon, David Honeyman, Liam McMillan, James Lee, Gordon Telford, Mark Dinnie and Paul Slater.
Craig added: "Cameron did the most push ups 2,800. He's a paratrooper so it was nothing to him!
"Our friends and family think we're mad, but they're very proud of us.
"We're absolutely chuffed to have broken a record."