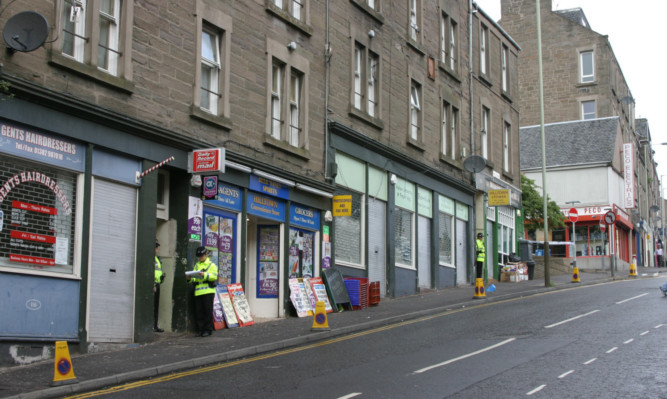 An Arbroath artist needs the public's help to complete a project in memory of her younger brother, who was brutally murdered in Dundee nine years ago.
Shaun McBeath was killed as he slept at his flat in the Hilltown following a party in 2006. Now, Mhari Davidson is appealing for help to complete an art project she hopes will help her come to terms with his tragic death.
"It was nine years ago, he was living with a friend at the bottom of the Hilltown and was attacked when he was sleeping, about four in the morning," Mhari said.
"I was nearly 27 at the time. I had my birthday a couple of weeks before we buried him. The first few years were really difficult but now I try to compartmentalise it when I'm working.
"I try to not get too emotional when I'm working but there are times when I think about it too much."
Shaun's killer, Alan Markie, was jailed for a minimum of 12 years but Mhari said she is not concerned with his fate.
Instead, she hopes her project will help her resolve her feelings over Shaun's murder. "Before I came to university I touched upon Shaun's death a little in some of the work I was doing at college but I didn't resolve anything through it and I couldn't do the type of work I wanted until now," she said.
"I'm a painter so I tried to do a portrait by getting photographs of him from his friends that I hadn't seen before but now I want to do something with a more social aspect.
"My tutor suggested different ways of working that help me to address the absence that Shaun's death has left in our lives and the feelings we still need to deal with. One of those is the wondering what he would be like now, and that's why I want to picture 25 and 34-year-old men, to capture how people change in that time.
"A lot of our 20s are taken up trying to find our way in life and making mistakes but as we get older, we need to grow up and learn from them as we try to make our mark on the world.
"I wonder how Shaun would have reacted to that and what growing up would have meant to him."
Mhari says she would only take up a few minutes of the volunteers' time to photograph them and have a brief chat about their lives. She would also like to hear from males and females with old passport photos who can feature as part of the wider project about growing up.
"I want nine people in each group, for the nine years that have past," she said.
Mhari, in the third year of her Fine Art degree at Duncan of Jordanstone, has to complete the project by Christmas but is issuing a public appeal because few of her fellow students fall within the age group she is seeking.
Anyone who wants to take part in Mhari's project can email her at m.davidson@dundee.ac.uk.