 A hotel operator has been handed a hefty fine after dozens of guests and staff fell ill when they were exposed to the deadly legionella bacteria by a faulty hot tub at a four-star hotel's leisure club.
BDL Select Operations Ltd – who operate the then Landmark Hotel, now the Hilton Doubletree, on Dundee's western outskirts – were fined £54,000 over the outbreak at Dundee Sheriff Court.
In total 65 people fell ill with 18 confirmed to have contracted Pontiac fever – a non-fatal, flu-like illness caused by the same type of legionella bug that causes Legionairre's disease.
The court heard how safety checks on the spa pool at the hotel's popular leisure club were not being correctly carried out following the sacking of the club's manager in January 2011.
As a result of that departure the hot tub was not fully drained, cleaned or disinfected for over two months before the outbreak.
Also, a "backwashing" job on its filters, which industry bodies recommend is carried out daily, was only done five times between February 6 and March 17.
Then, in March 2011, a chlorine injector on the pool failed, causing chlorine levels in the pool to fall to dangerous levels and allowing bacteria to breed in it.
It was eventually put out of action – but left switched on to prevent water stagnating.
That kept the water in the temperature zone that allowed the legionella bug to proliferate – and also agitated the water, allowing infected water droplets to become airborne.
Fiscal depute Emma Stewart told the court that after the outbreak was identified legionella bacteria was found in water samples taken from poolside showers and in showers in the men's changing rooms.
She said: "As a result staff members and guests were exposed to legionella bacteria. In total one staff member and 17 guests were confirmed to have contracted Pontiac fever.
"When the hot tub was closed it was left on, and over that weekend four regular members of the club were allowed to use it for around 20 minutes.
"All four later fell ill and three were confirmed to have Pontiac fever.
"An investigation was undertaken and the spa pool was later decommissioned entirely.
"Some staff were trained how to test water but had little knowledge on how to interpret the results. No information was made available to staff in that regard."
BDL Select Operations Ltd pleaded guilty on indictment to two charges under the Health and Safety At Work Act 1974.
Defence advocate Barry Smith said: "The company acquired the hotel in 2008 and spent £2.75 million in it, including £140,000 on the leisure club.
"Considerably more money has been spent since this incident – some £1 million."
Sheriff George Way said the company would have been fined £80,000 but for its early plea.
Handing down the £54,000 fine, he said: "Clearly this is a matter of significant public concern. There have been fatalities caused by airborne risks and failures to prevent those risks.
"It is only good fortune that the actual consequences of the failures are not more serious – it comes down to the vagaries of chemistry and the biology of the potential victims."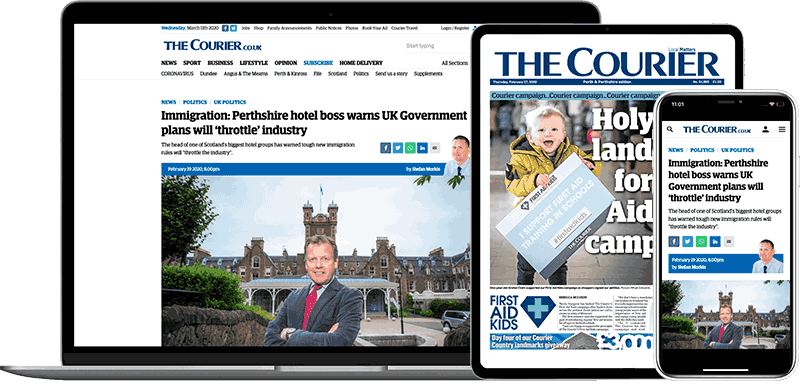 Help support quality local journalism … become a digital subscriber to The Courier
For as little as £5.99 a month you can access all of our content, including Premium articles.
Subscribe