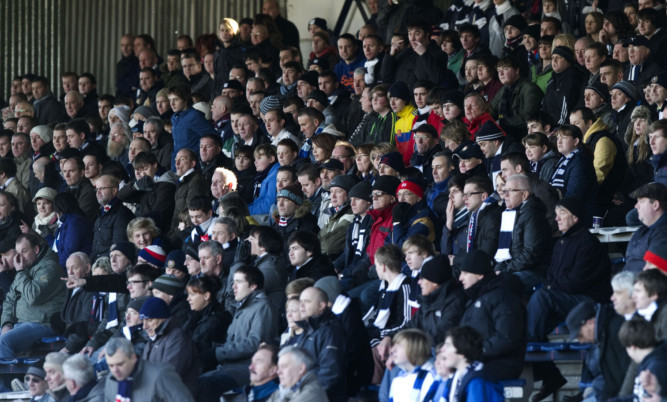 Dundee Football Club is giving away 3,000 tickets to Scotland's ex-service and serving men and women to commemorate the 100th anniversary of the Battle of Loos.
The club will pay tribute to the 7,000 Scottish soldiers who lost their lives in the First World War battle with a special commemorative home match against Ross County on Saturday September 26.
Dundee FC Managing Director John Nelms met with Major Ronnie Proctor, Secretary of the Black Watch Association, at the city's war memorial on The Law to launch the match.
It is one part of a weekend-long programme of national commemorations being hosted by the city, which was a key recruiting area of the Black Watch regiment and which suffered significant casualties at Loos.
The Home team will be playing in a commemorative strip featuring the Black Watch Tartan and regimental badge in remembrance.
The Battle of Loos was one of the largest British battles of the First World War and never before had so many Scottish soldiers been in the field at the same time.
Around 30,000 Scots from all eleven of Scotland's infantry regiments served at Loos, and of the 21,000 British soldiers killed at Loos, more than 7,000 were Scottish.
The battle's effects were felt throughout the country.
The city of Dundee was particularly affected. The 4th Battalion of the Black Watch, also known as 'Dundee's own', suffered huge losses at Loos, with 57% of men being killed or seriously wounded on the first day of battle.
Each year on the morning of 25 September, the beacon at the top of the city's war memorial on The Law shines to remember the battalion's heroic dead and this year it will mark the start of the weekend's centenary commemorations, including Saturday's match.
Dundee FC Managing Director John Nelms said: "The Club would like to invite all service men and women, both former and current, along to our commemorative match to help us remember the soldiers from across Scotland who lost their lives at Loos."
The match kicks off at 3pm and any military personnel or veterans wishing to attend can claim up to 4 free tickets by producing proof of service at the Ticket Office at Dens Park stadium.
Tickets will be available to collect right up until the day of the match and due to the limited numbers will be on a first come first served basis.
Call the club's ticket office on 01382 889966 for more information.