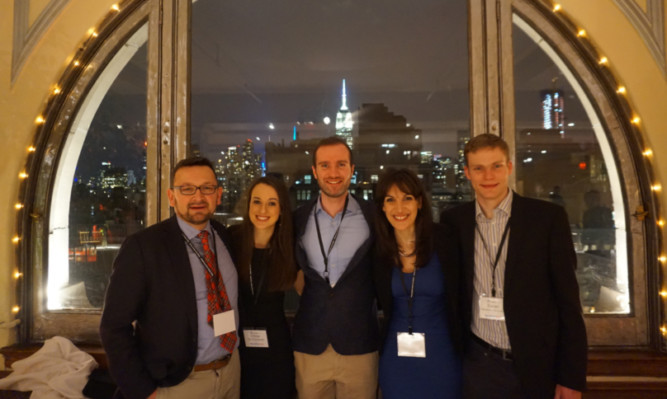 Dundee delegates of a Scottish mouth cancer charity have given a presentation in New York, as part of the initiative's efforts to highlight the dangers of the disease.
Let's Talk About Mouth Cancer (LTAMC) were invited to New York to give a presentation to the Global Oral Cancer Forum and discussed the progress they have made in raising awareness of mouth cancer in Scotland.
Trustees from the charity flew out to talk to other oral cancer initiatives from across the world and showed how they were working to engage with the Scottish public about the dangers of mouth cancer.
There were more than 200 delegates from 33 different countries at the conference and information gathered in Dundee was used to help present their case.
Cases of mouth cancer, referred to professionally as oral cancer, have risen in Scotland recently and the charity aims to improve prognosis rates for patients by detecting the disease early.
A study conducted by the charity showed there was an increase of 1,100 new cases of mouth cancer between 2010 and 2011 in the UK and that Scotland has a higher number of mouth cancer sufferers than anywhere else in the country.
The charity said the earlier mouth cancer is detected, the higher the chance of survival is for someone suffering from the disease.
Niall Mcgoldrick, the convener for LTAMC, said: "We were very well welcomed to New York, by both fellow delegates and attendees to the convention.
"We were one of the biggest delegations there, and there were a large number of delegates who had come from Scotland.
"Information we gathered from last year's Dundee Mouth Cancer Awareness week was in our presentation, along with information we gathered on how social media can be used to help raise people's awareness of the disease.
"The charity is proactively going out into communities, engaging with the public and health professionals to raise awareness about mouth cancer.
"The earlier you catch mouth cancer, the earlier it can be treated.
"We want to continue with the work we have done this year and build on what we have already achieved."