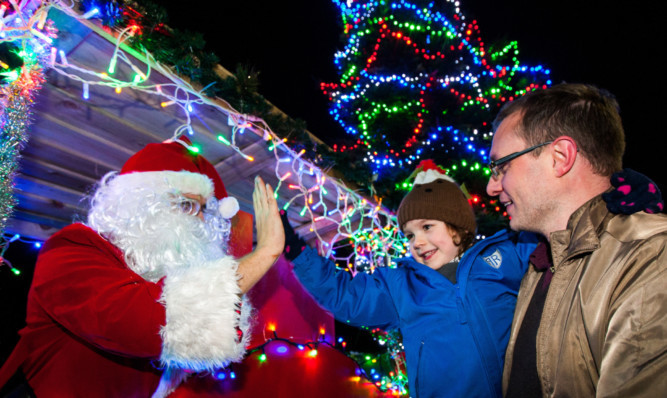 Dundee's West End will kick off its Christmas Fortnight tomorrow with a packed programme of events.
The two weeks of festive fun begins with the Christmas lights switch-on and a fireworks extravaganza.
Singer Sheena Wellington has been given the honour of switching on the lights at Seabraes.
Accompanied by Santa, Sheena will hit the switch at 7pm.
This be followed by a fireworks display, with free "glow specs" and sparklers being given to all children who attend.
There will also be a Christmas concert at Dundee West Chuch on Wednesday at 6.15pm.
Hosted by the Rev Andrew Greaves, it will feature musical contributions from all local primary and secondary schools.
West End councillor Fraser Macpherson said: "West End Christmas Fortnight is packed with events and we hope that, as in the past 15 years, the local community will take part.
"We are extremely grateful to all the local businesses for their support of the Christmas Fortnight, without which the events would not be possible."
A host of other events are planned in the West End as part of the Christmas Fortnight.
On Saturday, there will be a children's craft event at Logie St John's (Cross) Church Hall while Friends of the University of Dundee Botanic Gardens will host a Mystery Walk in the Dark that afternoon.
The following week there will be a Westport Winter Wonderland on Thursday December 3 featuring a pop-up Christmas market.
On Saturday December 5 there will be a vintage motor cavalcade along Perth Road, organised in conjunction with Dundee Museum of Transport.
Last year's West End Fortnight was marred by the theft of a wire-framed reindeer sculpture from Perth Road.
The specially commissioned wire-frame sculpture of Kevin the Reinder was presumed stolen.
The West End Fortnight follows on from Dundee's main Christmas lights switch-on last week.
Thousands of people crammed into the City Square to see Santa and Deputy Lord Provost Christina Roberts switch on the lights.
It was the culmination of a day-long series of events, including a Christmas market and a procession through the city centre by Santa Claus.