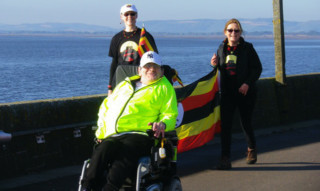 A 65-year-old Dundee Paralympian has raced around the city in his wheelchair to help build schools.
Danny Furey, who has cerebral palsy, took on the sponsored run around Dundee in his electric wheelchair for the Uphill Trust at the weekend.
His efforts raised more than £1,000 which will help build a new school for the youngsters at Uphill Junior School in rural western Uganda.
Mr Furey was met around the course by his friends and family, as well as supporters including trustees from the Uphill Trust, Blackwood housing complex, his local church and shops.
He chose to take on the sponsored run around Dundee to support the work done by the Trust and said: "I was touched by the lack of basic standards like one toothbrush for 200 children and the rest just use sticks.
"Also there is a lack of basic sanitation. For instance, they only have a hole in the ground for the toilet.
"The money we collect will go to help build the new latrine block."
Born in Dundee in 1950, Danny began competitive wheelchair racing at the age of 32, in the days before special racing chairs or Paralympic Games.
He raced for 10 years, becoming known as one of the finest foot-pushing wheelchair racers of the time. He was selected for the Seoul Olympics in 1988 and the Barcelona Paralympic Games in 1992.
He added: "I would like to thank everybody for supporting me."
Danny took on the challenge on Saturday. His route took him from Glamis Road down to Riverside Drive, along to the railway station, up through the city centre, out along Hawkhill and Blackness Road back to Glamis Road.
To donate visit www.totalgiving.co.uk/mypage/dannyfurey.