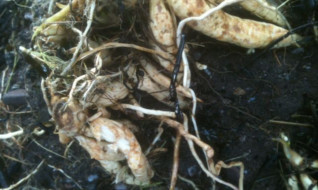 Warnings have been issued over a "poisonous parsnip" that has apparently been exposed on Tayside's coastline.
Concerns were raised that recent storms have left toxic roots exposed on beaches and sightings have been reported at Broughty Ferry.
However, there have been no poisoning cases reported in Dundee.
Doug McLaren, of the Broughty Ferry Beach Management Group, said: "Part of the beach watch is that we're concerned about things arriving on the beach, and we have had many things washing up since the storm.
"People should be more wary as this could be dangerous and they need to know what to look out for."
A dog walker on the west coast was shocked when two pets started fitting after eating the plant. One died 20 minutes later, while another is recovering after treatment.
An Argyll and Bute council spokeswoman said: "The plant has been identified as hemlock water dropwort, which occurs naturally on the shoreline.
"It seems that due to the stormy weather the roots have been disturbed and exposed."