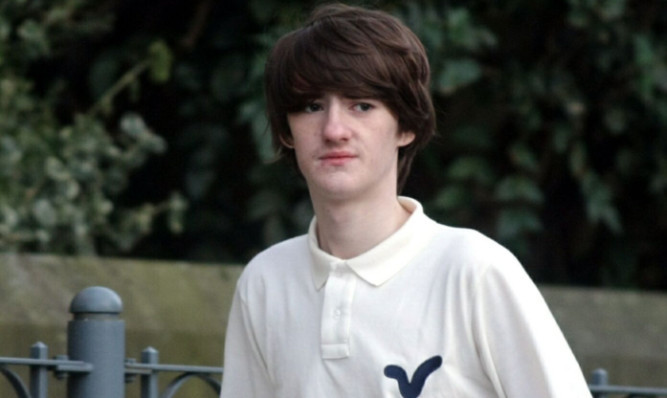 A man dubbed Spider-ned has been jailed after he admitted scaling the roof of a house then pelting police with roof tiles and debris.
Connor McLeod, who earned the moniker when he climbed down the outside of a 14-storey tower block to evade police in 2011, lived up to his name with the new stunt, as well as carrying out a vicious attack.
Dundee Sheriff Court heard how McLeod first assaulted his ex-girlfriend Ashley Deans in two separate attacks after a party on March 7 this year.
He then ran off and hid in bushes as police scoured the area looking for him.
When they found him he climbed the 10 foot tall bush before scaling the outside of a random house in Dundee's Cobden Court in an incident that echoed his previous crimes.
That sparked a two-hour rooftop stand off in which McLeod ripped up a roof tile and threw it at police, hurled his mobile phone at officers and spat on a constable from his perch.
Depute fiscal Eilidh Robertson told the court that McLeod had invited Miss Deans to a party the day before the incident, two weeks after the couple broke up.
She said: "At 7.20am the following morning an argument broke out and the accused grabbed Miss Deans by the hair and dragged her towards the exit door, then punched and kicked her several times on the head and body.
"Miss Deans called police and arranged to meet them nearby where the accused re-emerged.
"He grabbed Miss Deans with both hands and threw her against a parked car, causing her to fall before kicking her twice on the head and running off.
"Police were actively searching for the accused and he was traced on police CCTV in Logie Street, Dundee.
"Officers attended and at 8am he was found in a large ivy bush at the rear of a garden in Cobden Court an address he had no link to.
"One of the officers said he had a police dog and said to exit the bush, but instead he said he would not come out and climbed some 10 feet to the top of the bush.
"He shouted that he would jump if police came any closer and was abusive towards them.
"The accused then climbed on the roof of the property, where a stand-off ensued lasting a total of two hours.
"During this time he was repeatedly asked to climb down, but he repeatedly shouted abuse and threw his mobile phone at Sergeant Robert Prudom, striking him on the wrist to his injury.
"He then began to remove a slate tile from the roof and throw it and other debris in the direction of PC Lee Knox.
"However, he missed and it struck the shed roof instead, going through it.
"He then threw another part of the tile at another officer but again missed.
"Meanwhile, residents sheltered in their homes including the occupier of the address whose roof he was on, who was in the property the whole time.
"While on the roof the accused also spat at Constable Andrew Thompson, striking him on the chest."
McLeod, 20, a prisoner at HMP Perth, pleaded guilty to one charge of assault, two of police assault, one of breach of the peace and one of culpable and reckless conduct, all committed on March 7 this year.
Defence lawyer Jim Laverty said: "There was significant inconvenience to the residents of Cobden Court but thankfully no serious injury or damage caused during this particular stand off."
Sheriff Alistair Carmichael imposed a jail term totalling 17-and-a-half months.
McLeod was ordered to serve 170 days of an unexpired earlier sentence for another assault, with 21 weeks consecutive to that for the roof incident and seven months for the assaults.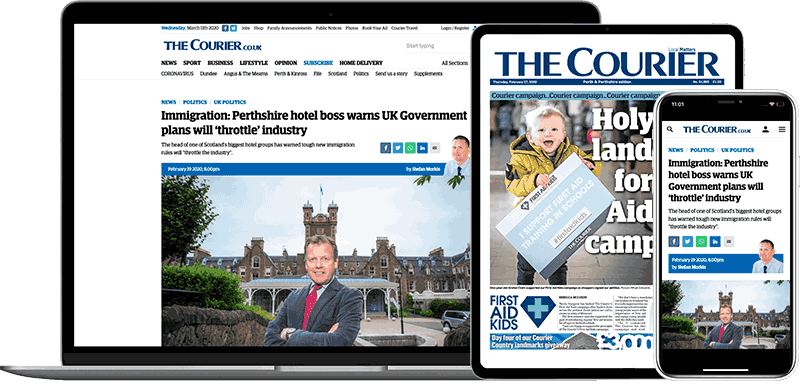 Help support quality local journalism … become a digital subscriber to The Courier
For as little as £5.99 a month you can access all of our content, including Premium articles.
Subscribe