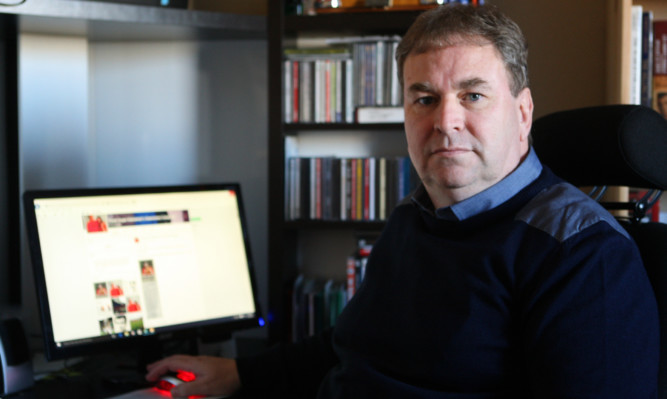 A police probe is under way over fears a political candidate standing for Frank's Law has been the victim of hackers.
Dundee United legend Frank Kopel's widow Amanda asked Patrick Kelly to stand against Dundee East MSP Shona Robison in the Scottish Parliamentelection.
The Courier can reveal police were called after Mr Kelly made a hacking allegation just hours after his candidacy was announced.
He reported his Facebook page was the victim of a hacking attempt and told police his mobile phone and email had also been compromised.
A police spokeswoman said: "We are aware of the matter."
Mr Kelly said he did not want to say too much because the police areinvestigating the hackers' details.
He said: "To attempt to hack someone's computer is illegal and comes under the Computer Misuse Act.
"I will also be talking to my solicitor about this as I will get to the bottomof this.I am standing for the Dundee East seat in memory of my dear pal Frank and his wife Amanda Kopel and I will not be silenced or intimidated by anyone.
"This sort of thing makes me more determined to fight for Frank's Law."
Mr Kelly, a former radio DJ from Dundee, said he was unsure if thehacking was "some form of politicalshenanigans" but added that "most decent people" would be "sickened" if it was an attempt to "silence democracy".
Mrs Kopel, from Kirriemuir, whopreviously considered standing herself, said Mr Kelly was the perfect candidate to fight for Frank's Law after his own high-profile campaign for justice forvictims of scandal-hit former Tayside surgeon Muftah Salem Eljamel.
Mrs Kopel's husband died in April last year having been diagnosed with dementia in 2009, when he was aged just 59.
He and his wife paid about £300 a week so he could have personal care in his Kirriemuir home because he did not reach the qualifying age for free services until weeks before his death.
Mrs Kopel is urging ministers to close this loophole a bid The Courier isbacking.
She began the campaign 27 months ago but has grown increasinglyfrustrated at what she sees as a lack of support for Frank's Law from the SNP administration.
Health secretary Shona Robison told Mrs Kopel on Friday that Frank's Law is "absolutely a priority" for the Scottish Government.
The fight for Frank's Law was taken to Ms Robison's Dundee office whenprotesters from babies to pensioners joined forces to make their views known in no uncertain terms.
Mrs Kopel was in the midst of conducting interviews outside the SNP office in Old Glamis Road when Ms Robison appeared on the street just before the protest started and invited Mrs Kopel inside to discuss the issues.
They both emerged around 25minutes later and Ms Robison told the waiting press pack that she had given Mrs Kopel assurances that Frank's Law had not been rejected and discussions were ongoing.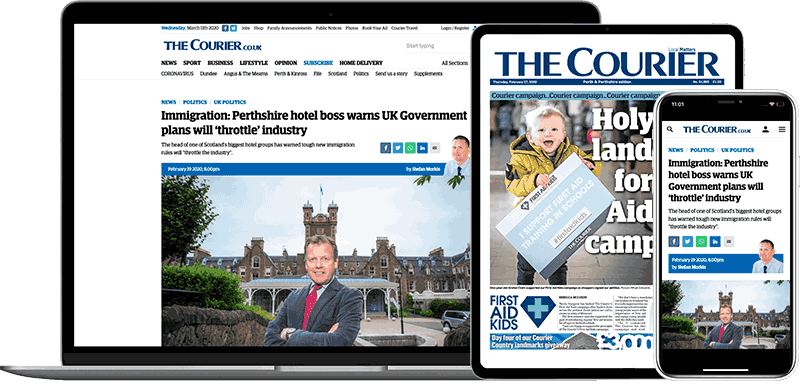 Help support quality local journalism … become a digital subscriber to The Courier
For as little as £5.99 a month you can access all of our content, including Premium articles.
Subscribe