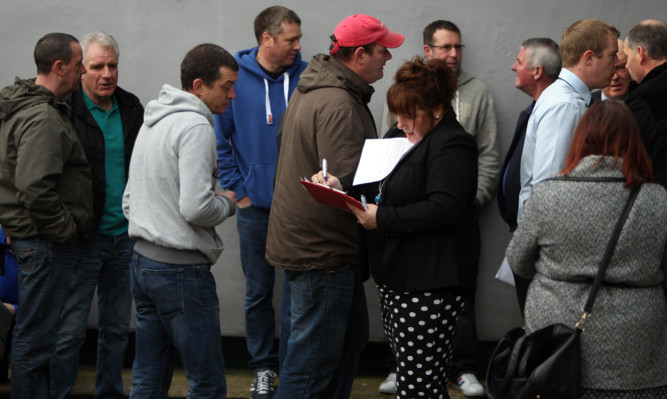 More than 100 people have attended an event arranged to help the workers of the collapsed Dundee construction firm Muirfield Contracts.
Tuesday morning's meeting at Dundee and Angus College's Kingsway campus was organised by the Scottish Government's PACE (Partnership Action for Continuing Employment) and brought together employers and support networks keen to help the skilled workers now facing redundancy.
More than 100 workers turned out, including apprentices, and hopes were high that work could be quickly found for many.
Charlie Day had worked for the company for 12 years, mainly in landscaping.
He said: "I've got my house paid, my wife works, my children are working now, so I'm not too worried.
"Other people have families and a mortgage to look out for. I'm looking at going into business for myself."
Nine of the 30 apprentices who were completing their training with Muirfield have already found new placements, and it is hoped places will be found for all of them.
The closure of Muirfield was described as a "travesty" by Tim Allan, the president of the Dundee and Angus Chamber of Commerce and chairman of Unicorn Property Group.
He said: "Just two years ago we had dealings with the company to build a block of flats, and they delivered it on time, on budget and we were hugely impressed with their performance.
"Overall, it was a very happy experience. To see that company now collapse is nothing short of a disaster.
"We're losing jobs here, losing skills and I'm hopeful that all of the people laid off can find work quickly and locally."
Jennifer Ryan from Contract Scotland, a recruitment service for the trades industry, said the outlook is good.
She said: "There are lots of companies out there right now. The market is very buoyant and we are hopeful for these workers.
"The housebuilding sector always has a skills shortage and good tradesmen are always hard to find."
For more on this story, see Wednesday's Courier or try our digital edition.