A Dundee woman who shared heart-breaking video of her disabled dad struggling to climb a set of stairs says she hopes the public reaction will bring about the help he needs.
Lucy Fraser filmed dad, Gordon, who suffers from a neurological condition which affects his mobility, crawling up the stairs of her Dundee home after being refused permission to install a stair-lift.
The mother-of-one was left horrified by her dad's struggle and decided to film the 73-year-old in an attempt to publicise his plight.
The video has now been viewed more than 12,000 times.
She told The Courier: "The stairs are a big problem my dad has already fallen three times on them since January and done bad damage to his leg.
"We had occupational therapy in to carry out an assessment and my dad was refused a stair-lift and a walk-in shower.
"I don't think elderly and disabled people get treated the way they should."
The footage has prompted a furious response from viewers.
One said: "I couldn't watch it all. I hope he gets his chair soon. You wouldn't treat an animal like this."
Another added: "That truly breaks my heart to see your dad like this. He will end up with even more pain doing this."
A spokesman for Dundee City Council said the authority will be approaching the family to see what support can be offered.
He said: "We will be contacting the family directly to discuss their situation with them and to listen to their concerns.
"Council officers will help to find the best and most appropriate ways to support the family."For more on this story, see Wednesday's Courier.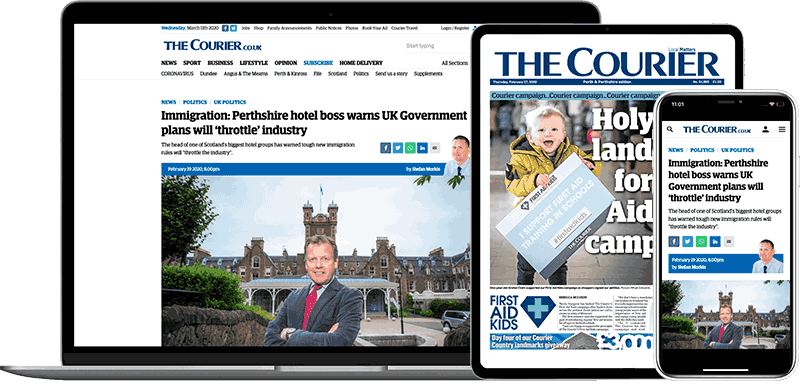 Help support quality local journalism … become a digital subscriber to The Courier
For as little as £5.99 a month you can access all of our content, including Premium articles.
Subscribe