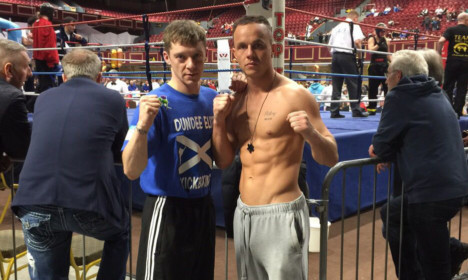 A Dundee kickboxer fought his way into the finals when he represented Scotland at one of the world's largest martial arts tournaments.
Sean Wanless and Richy McGinnis of Dundee Elite Freestyle Kickboxing Club were competing for their country, with Sean taking home a silver medal in his category.
More than 4,000 fighters from 30 countries took part in the Irish Open International tournament.
The competition, one of the most prestigious in Europe, is run by martial artists in aid of charity.
All systems and styles of martial arts were represented, including kickboxing, karate, tae kwon do, kung fu and freestyle.
After winning all his fights last Friday and Saturday, Sean, who runs the Dundee club, made it through to the final on Sunday where he was up against former world champion Bernadou Edouard from France.
Sean said: "The final didn't go the way I wanted it to but getting to the final was a great achievement for me and taking the silver home was just as good as winning the event.
"This year was the hardest yet.
"Every country team had around 25 competitors in each category so it was a hard one to win.
"Rich fought really well and managed to get himself to the quarter-finals.
"He was up against an experienced Italian fighter in a very close fight in the light contact division."
Sean added: "Dundee Elite Kickboxing would just like to thank all our sponsors for getting us out there and making it all happen, next stop for us is the Edinburgh Open.
"I have loads of junior fighters going to take part representing the club, then it will be the world championships over in Spain at the end of the year."