 Dundee has pitched in with the UK's first wiffle golf course – and there's not a grassy fairway in sight.
Ryan McLeod and Mike Findlater were inspired to build the course after discovering the little-known sport in Canada.
Working with volunteers from Dighty Connect, the enterprising duo sourced palettes of wood, unwanted driving range mats and old paint cans, to transform an unused woodland space near the Dighty Burn into a nine-hole wiffle golf course.
Unlike traditional golf, a game only takes around 30 minutes and players only need one club and a plastic ball each to attack the course, situated just off Pitkerro Road.
The world's top golfers who played in The Open at St Andrews would probably baulk at the idea of playing wiffle golf as it involves a real risk of getting dirty. Players clamber over logs, up banks and through forestry to get from tee to pin.
And, unlike many traditional golf courses around the country which charge exorbitant amounts to play, the secluded Dundee course is unmanned and can be used free of charge at any time.
Ryan, 28, said the main aim was to encourage people to go out and explore woodland areas.
He said: "There's an air of magic about wiffle golf. It's like going on an adventure and finding a hidden gem in the forest.
"The landscape in Canada is very similar to Scotland so I thought it would be a great idea to launch a course here.
"Wiffle golf takes chipping and puts it into the forest, combining it with a sense of exploration and adventure."
To play wiffle golf you stand on the tee and place your ball on the astroturf square. The aim of the game is to get your ball in the hole but you only get one shot per hole so you're awarded points based upon where your ball lands.
You only need one club between you but every player needs a wiffle ball which can be picked up cheaply from supermarkets.
It took Ryan and Mike a month to build the course with help from Dighty Connect volunteers. All materials were either donated or sourced for free.
"I'd love to see more wiffle courses springing up," said Ryan, a freelance designer. "Our course is ready so we're hoping people will get out there and enjoy it.
"It's super simple and fun to play. You just need to know the rules and how to find the course."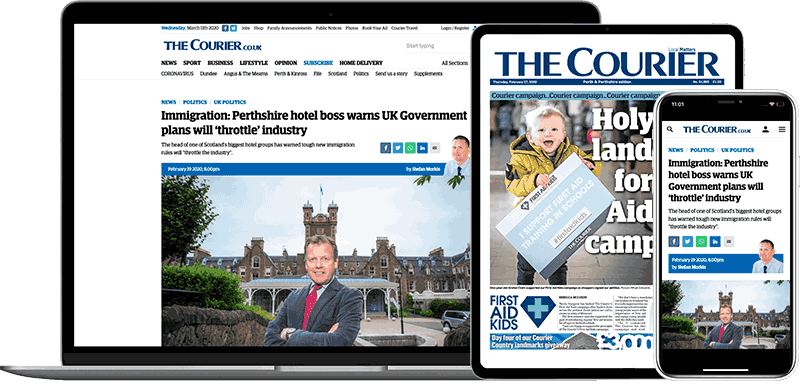 Help support quality local journalism … become a digital subscriber to The Courier
For as little as £5.99 a month you can access all of our content, including Premium articles.
Subscribe