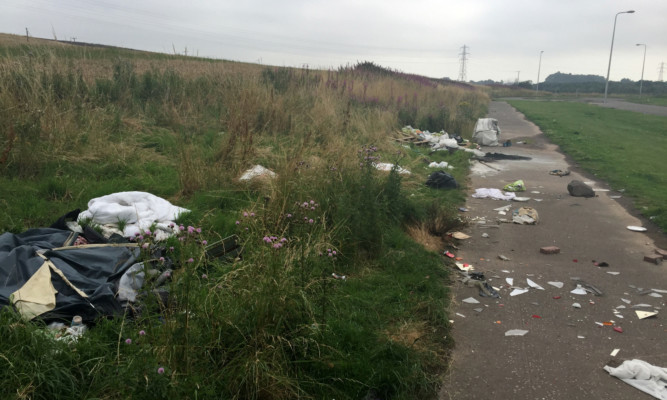 Travellers have moved on from a council-sanctioned site leaving tonnes of rubbish in their wake.
The group have now left Jack Martin Way, where they were told they could stay by council officials.
Soiled nappies, gas canisters, a barbecue and a guitar were just some of the items left by the group, along with what appeared to be a Louis Vuitton handbag.
The group of around 20 caravans, which has previously stayed in controversial fashion on sites in Whitfield, Douglas, Caird Park and Mill o' Mains, was based at the Fintry road for a month at the behest of the local authority.
Councillor Brian Gordon said he was outraged, but not wholly surprised, by the mess that had been left.
He told The Courier: "This group has treated no area they have stayed in with respect.
"They are not like other groups in the city a couple of weeks ago one group stayed at Riverside Drive and took all their rubbish with them.
"But this group have left a mess wherever they have stayed, such as at Mill o' Mains.
"It is no great surprise and now we'll have to pay to clean it up."
Housing convener John Alexander decided to allow the Travellers to stay at Jack Martin Way because it is less residential than other areas where they had been encamped, while the group was also too large to fit on the official site at Tealing.
But Mr Gordon said the compromise with the group, who appeared to have left the site overnight on Friday, should never have been reached.
"You can't expect people to change just like that. You shouldn't be dealing with groups that show such little respect," he said.
Fintry resident Amanda Price said she was outraged at the mess, which also included two caravans that had already been removed from the site yesterday.
"It really is terrible," she said."They've put rubbish in the farmer's fields and it is blowing all along the street. It's ridiculous."
One Fintry dog walker said he was relieved to finally be able to use the land again.
But he added: "It is a joke. How much is this going to cost to clean up? It's the worst mess I've ever seen.
"I can't believe they've done this after the council let them stay.It's a breach of trust to say the least."
A Dundee City Council spokesman said: "The council has removed two caravans from the location.
"We are assessing the situation and are organising appropriate action and clean up."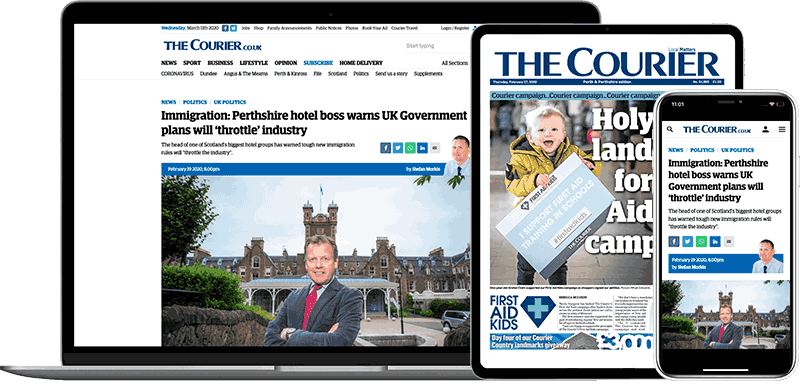 Help support quality local journalism … become a digital subscriber to The Courier
For as little as £5.99 a month you can access all of our content, including Premium articles.
Subscribe