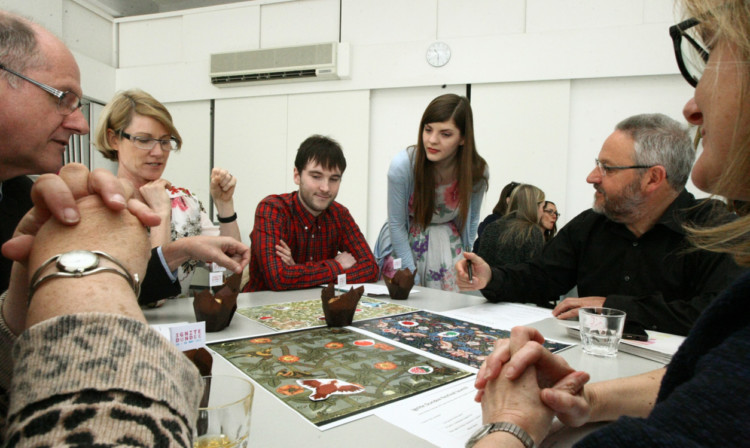 The V&A's first ever game designer in residence launched the Ignite Dundee festival with a quick-fire demonstration of live game design.
Sophia George put a packed room through their paces, using materials from her upcoming game for the V&A to demonstrate the artistic, creative and design skills that are required for game development.
Ignite Dundee runs from May 16 to 31 and showcases the very best of Dundee's creative talent.
The festival features degree shows, exhibitions, theatre, events and workshops and is a partnership between Abertay University; Dundee Contemporary Arts; Dundee One City, Many Discoveries; Dundee Rep Theatre; Leisure & Culture Dundee; Dundee University and V&A Dundee.
Sophia is taking part in Ignite Dundee at the Pecha Kucha Night of micro-talks run by Creative Dundee, where she'll be discussing her game design inspirations.
She said: "It's very exciting to be back in Dundee for the development of my game, after six months in London working with the V&A's Britain 1500-1900 galleries for research.
"I was particularly inspired by William Morris textiles and am creating a game using his Strawberry Thief print.
"The game will be a playful celebration of his work, with the player travelling through iconic pieces, revitalising prints and co-creating beautiful artefacts."
Sophia is working back at Abertay University, where she studied for her postgraduate degree, to complete her game with the support of Abertay staff, V&A Dundee and local game studio Denki.
"I'm really delighted to be part of the Ignite Dundee festival, both to launch the packed programme today and to speak at Creative Dundee's next Pecha Kucha Night about my love of game design," she added.
"Dundee is an incredible city of design and innovation, with two world-class universities and a thriving community of artists, designers and makers.
"Ignite Dundee is going to be a lot of fun and I look forward to meeting many more passionate, creative people during the festival."
Stewart Murdoch, director of leisure and communities at Dundee City Council, said: "Ignite Dundee is a perfect example of the city's rich cultural offering collaboration, creativity and culture are all packed into a programme of fantastic events.
"This is an exciting programme of activities that will appeal to many people across the city and visitors as well."
The festival includes the best of Dundee's emerging art and design talent at the Abertay University and DJCAD degree shows, and the Dundee and Angus College end-of-year show.
Exhibitions include the playful conceptual art of Navid Nuur at DCA, a showcase of Scottish fine art photography at The McManus, and new commissions from recent Scottish graduates at GENERATORprojects.
Events include the V&A Dundee lecture from pioneering digital design and culture organisation onedotzero, the Pecha Kucha Night of passionate micro-talks run by Creative Dundee, and a chance to make a contemporary silver ring with jewellery collective Vanilla Ink.
Dundee Rep Theatre is joining forces with Birmingham Rep Theatre to perform Alan Ayckbourn's play Woman in Mind for the festival.