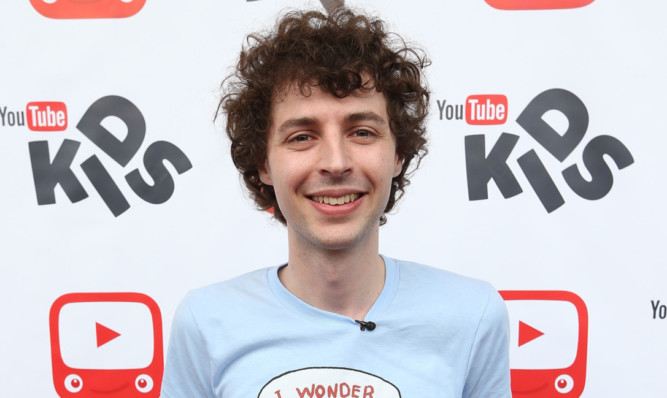 His videos are bigger than Justin Bieber's, Rihanna's or One Direction's. Ahead of Minecraft guru Stampy Cat's visit to Dundee, Jack McKeown looks at the phenomenon of online gaming channels.
First there was Big Brother, famously lampooned by Billy Connolly as "people sitting in a house watching people sitting in a house".
Now it's video game channels, where people sit on their computer watching people play on their computers.
They are huge business. The biggest YouTube channel in the world is that of a Swedish gamer with the moniker PewDiePie. The foul-mouthed gamer's channel has 40 million subscribers and his videos have been viewed more than 10 billion times that's almost 1.5 times for every human being on planet earth.
Not far behind him is Stampy Cat real name Joseph Garrett, from Hampshire. The 24-year-old's videos have been watched more than four billion times.
They consist, in their entirety, of him playing a single game: Minecraft.
A "sandbox" game, Minecraft allows players to explore and build virtual worlds. It was created by a Swedish developer and the console editions were co-developed by Dundee-based 4J Studios.
Players build structures in a similar manner to a giant, virtual Lego set.
https://youtube.com/watch?v=aJtOZ1obhvE%3Frel%3D0
Loved by both children and adults, among the creations made by the most accomplished players are the cities in hit show Game of Thrones, a working 16-bit computer, a playable guitar, and all of Denmark. More locally, Kengo Kuma's V&A Dundee design has also been built on the platform.
Minecraft is the third best selling video game in history, having racked up sales of more than 70m copies.
To those who know little of Minecraft and have reached a certain age, the popularity of Garrett's videos will be baffling. Viewers see his monitor as he plays various levels and modes in Minecraft while delivering an exceptionally chirpy narrative.
By his own admission, Garrett is known to many parents as "the annoying British man in the corner" due to their children's enormous appetite for his relentlessly amiable videos featuring his jolly feline digital persona Stampy Cat.
He posts at least one video a day on his YouTube channel, which has more than 6.6m subscribers.
That makes him probably the UK's top children's entertainer yet he can walk down the street without being recognised.
https://youtube.com/watch?v=vdSzOTFfGTs%3Frel%3D0
According to Garrett, he spends at least 11 hours a day making his Stampy videos.
He has resisted putting adverts into them, instead relying on the money paid out by YouTube. Although only a fraction of a penny per view, the sheer numbers that visit his site mean he is well on his way to becoming a millionaire.
Next month, Garrett will deliver the Royal Society of Edinburgh Christmas Lecture on St Andrew's Day in the Caird Hall in Dundee.
He'll talk about what goes into his videos and will create a new Minecraft adventure live on the night.
It is fair to say the children of Courier Country are somewhat excited about this event.
Susan MacDonald, 31, is a mum from Dundee. Her five-year old daughter Peyton is Stampy mad.
https://youtube.com/watch?v=2w4zzVPJ4WU%3Frel%3D0
"She found Stampy by accident when she was looking for YouTube videos on how to build things in Minecraft and now she just loves him," Susan said.
"She watches his video every day and tries to build all the things she sees.
"She'll make a massive house then tell me how big it is how many bricks long and high.
"I'm not telling her yet that Stampy's coming to Dundee just in case we can't get tickets."
Dawn Grant's son Logan will be seven next month. The Dundee mum says her boy can't wait to see Stampy.
"He saw on Facebook that he's coming to Dundee. He knows we might not get tickets but he's got everything crossed," she said.
"It's a good game for him to be playing because it's not violent and it teaches him to be creative."
Andrea Terroni's son Matthew, 6, has been so inspired he wants to be a YouTuber when he grows up.
"He has his own YouTube channel his older brother helped set up," Andrea, 38, said.
Stampy Cat helped Catherine Elnawaisre's son Adem, 7, get over some issues at school.
"He had problems making friends at school," Catherine says. "After he got a tablet for Christmas whenever he was feeling isolated he could play Minecraft or watch Stampy Cat videos."
Adem added: "Minecraft is fun. This week I made a fire station, houses and a secret base.
"I play it with my brother and we work together to help each other."
* Stampy Cat is in Dundee on November 30. Tickets go on sale at 9.30am on October 31 at Dundee Box Office in the City Square. For more information visit www.royalsoced.org.uk.