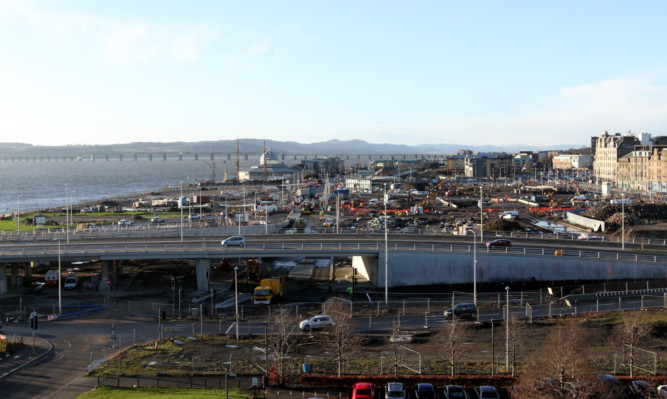 Dundee workers may not feel the economic benefits of the city's billion pound waterfront redevelopment, it has been claimed.
Local businesses, unions and politicians have warned that the V&A and waterfront construction could damage the city rather than revive it if labour and materials are outsourced.
The warning comes after 11 workers from Dundee City Council's environment department were given their notice last week amid fears at least another 40 jobs could be on the line.
George Ramsay, Dundee representative for the Ucatt union, said: "You would think there would be enough work in Dundee to keep workers from the council's own works department employed.
"There would appear to be no jobs for local people.
"I thought there was supposed to be a plan in place to ensure that local workers were given jobs as part of the waterfront development, but instead we are seeing local guys losing their jobs."
Peter Stewart, who runs Tradstocks, one of the largest stone suppliers in Scotland, echoed the concerns, claiming he has seen his business and others passed over in favour of foreign suppliers.
He said: "There is a saving, of as much as 20% or 30% if you buy from foreign suppliers.
"But once my company is paid, pays tax back into the system and invests and spends in the local economy, it starts to look much more like a zero-sum game.
"To me, there's no community benefit to letting this money leave the Dundee economy and never see it return.
"Stone is a part of our heritage, and these skills are something we risk seeing disappear."
Councillor Richard McCready recently warned that the taxpayer-funded building projects "could be doing those same taxpayers out of a job."
He said: "I've made the point before about using public procurement to maximise the benefit for local people; whether apprentices, subcontractors or just using local materials.
"It isn't simply about being cost effective, there is a need to balance the environmental impact and local employment benefit, and consider the advantages of stimulating the local economy.
"Often the cheapest option is not always the best value.
"For example, if money is spent locally, that will tend to get recycled back into the Dundee economy, we can also maximise value from local procurement."
Council leader Ken Guild said all the workers who received letters giving them a week's notice were on temporary contracts and had reached the end of the term they had been employed for.
He added: "We have a policy of no compulsory redundancies and we are not just paying off people temporary contracts are a different thing.
"A lot of these workers have been taken on for a specific job and that job will have ended.
"We are doing our best as a council to create employment in the city and have taken an active role following the collapse of Muirfield to employ as many of the workers as possible.
"The council is very active in trying to improve the job situation in Dundee."
A spokesperson for BAM Construction, who are the main contractor on the V&A project, said: "The majority of our labour and materials overwhelmingly comes from local suppliers, as much as is possible.
"It's an unofficial slogan that it isn't just what we build, but how we build it.
"We don't want to just leave behind a new building, but the surrounding area should experience a ripple of benefits."