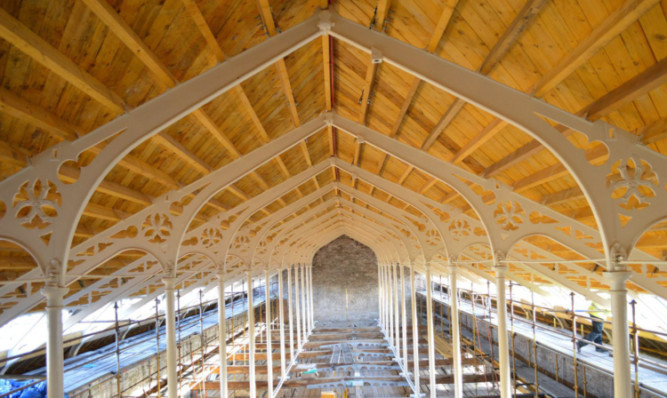 In just nine months, Dundee's historic High Mill has transformed from a derelict and dangerous husk to a stunning building that could soon become a major attraction.
Originally built in 1833 for flax spinner David Lindsay, the A-listed building sits by the city's Verdant Works.
It has lain empty since the 1960s and by 2012 was in genuine danger of being torn down as its condition continued to deteriorate.
Now a £2.9 million project has protected its stunning architecture for future generations, and though work is ongoing it should be complete by the summer.
The building will then take its place as a cultural attraction alongside the main Verdant Works museum, which tells the story of Dundee's industrial heritage.
Within the scaffolding-clad walls, High Mill's gothic cast iron roof trusses have been blasted and re-painted, returning them to their former glory.
A new roof has been put in place and when windows are fitted later this month the building will be wind and watertight for the first time in nearly 30 years.
Wherever possible the building and its features have been repaired rather than replaced and more than 1,500 photographs have been taken to document the project.
Dundee Heritage Trust said it was "delighted" that the rough industrial character of the building and its history was being kept. That has extended to everything from original features and finishes down to old light switches, rusty doors and graffiti being retained.
The innovative design has seen the building's wooden floors removed to create a full-height cathedral-like space that reveals the skeleton of the building and the monumental scale of the architecture.
The project will almost double the size of the Verdant Works museum, provide interpretation on new themes and allow more historic objects to be displayed.
They will include the centrepiece exhibit of Leisure and Culture Dundee's 1801 Boulton and Watt steam engine.
"Everyone is incredibly pleased with the progress to date," said Dundee Heritage Trust's museums and exhibition director Gill Poulter. "The beautiful potential of the building is now starting to emerge and the excitement levels are undoubtedly ramping up.
"We cannot wait to share the experience with our museum visitors."
The project has been made possible thanks to a partnership involving the Heritage Lottery Fund, Historic Scotland and 23 other funders.