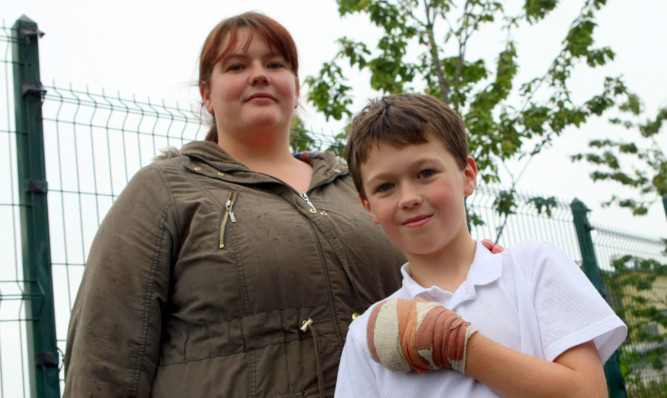 A nine-year-old Dundee pupil could be left permanently disfigured following a horrific fall in a school playground.
Kieran Park had to receive emergency plastic surgery to his hand and could suffer permanent nerve damage after he fell from a fence around Craigowl Primary School.
His mother, Gillian Holman, is calling for the school to take action, saying she is scared others may also get hurt.
The accident happened as Kieran tried to get a ball back after he kicked it between two fences at the school.
After climbing the seven-foot-high fence at the end of the school day, he slipped, catching his hand on a spike and falling all the way to the ground, tearing his left hand open.
He was left trapped between the fences and had to be rescued by a passing stranger.
His injuries were so severe he needed plastic surgery.
Gillian insists more must be done to prevent children climbing the fence.
Saying that Kieran got off relatively lightly, she said: "He could have suffered much more severe nerve damage to his wrist, sliced his wrist open, been impaled or even not found when he was. It's scary.
"Every day you see kids climbing on that fence, playing around it at the end of the school day, and the school does very little to prevent a repeat of the incident.
"I just don't want anyone else to have to go through what he's been though. He may have permanent nerve damage in his hand. We'll have to wait and see.
"Dealing with the school has been a nightmare. They only gave a warning to pupils nothing more."
Although calling for action, Gillian said she takes "full responsibility" for what happened to Kieran.
"He knows he shouldn't have been climbing on that fence," she added. "It isn't about making a claim. It's about making sure this isn't repeated."
A Dundee City Council spokesman said: "Pupils are regularly reminded to stay safe and not take risks, both in school and in the wider community.
"This message was reinforced again following this incident at the perimeter fence of the school.
"The head teacher has spoken to the family and staff will further discuss any issues that they may wish to raise."