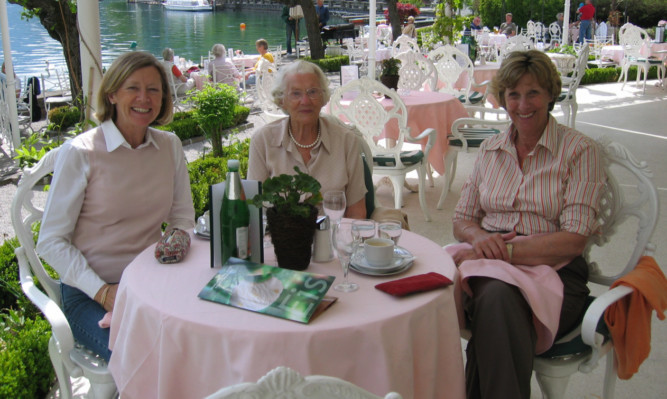 A 103-year-old Dundee nan has revealed her love of naan and a wee dram of whisky before bed is the secret to her longevity.
Curry-loving Margaret Phillips said her diet of spicy cuisine is one of her top tips for reaching her 103rd birthday.
Celebrating her birthday at Bupa's Balcarres Care Home, where she has lived since 2013, Margaret's daughter, Jacqueline, 78, told of how her mother's time in India boosted her talents in the kitchen.
Jacqueline said: "She makes a mean curry and was famous within the family for her curry suppers, which she would hold on a regular basis.
"And she always did enjoy a tot of whisky every night before dinner."
The great-grandmother of 16 was born in Dundee in 1912 and she gave birth to her first daughter Jacqueline just before the outbreak of the Second World War.
Margaret then moved to India with her first husband, William, and the family spent three years there.
They returned to Britain in 1940 but William, who served in the North Staffordshire regiment, sadly passed away just after the war.
After his death Margaret returned to India, the country she loved, where she she remarried in Bombay (now Mumbai), in 1946.
Her second husband was also named William and the couple spent their honeymoon at the famous Taj Mahal Palace and Towers hotel, of which she has very fond memories.
Margaret gave birth to her second daughter, Susan, in Calcutta (now Kolkata) .
The family remained in India until 1957.
As well as learning to prepare curry, Margaret learned to be thrifty due to wartime rationing restrictions.
Daughter Jacqueline said her mother has always loved sewing, knitting and dress-making.
She added: "During the war time, you were only able to purchase odd bits of material, but mum would collect these and make them into the most beautiful frocks for my sister and I.
"She has also knitted a variety of items for her grandchildren clothing, patchwork duvets, ragdolls, you name it.
"She absolutely loves family occasions and getting everyone together.
"I live in Jersey now so we aren't able to get the whole family together very often and she just loves it when we do.
"Attending the weddings of her grandchildren is always a highlight for her.
"She doesn't stop smiling all day."
Pamela Shaw, activity coordinator at Balcarres Care Home, said: "Everyone was delighted to help Margaretcelebrate the big day.
"Margaret is such a pleasure to be around.
"She's very lively and is popular with everyone who lives and works here.
"Residents and staff had a fantastic time helping Margaret to celebrate with drinks, refreshments and party food.
"Turning 103 is such an incredible accomplishment and we're all so proud of Margaret."