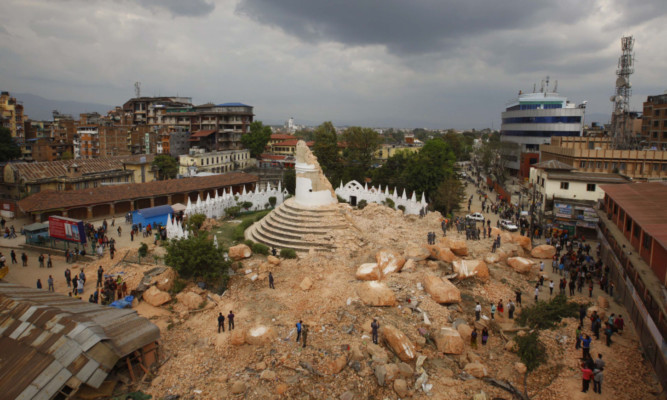 Two women from Dundee who were among the Britons believed to be missing in Nepal following the weekend's devastating earthquake have made contact with relatives.
Heather Chan, 34, and Susan McDonald, 41, were included on a list compiled by the International Committee of the Red Cross (ICRC) in the wake of 7.8-magnitude earthquake which has so far known to have killed over 3,700 people.
However, both Ms Chan and Ms McDonald have reportedly got in touch with their respective families to say they are safe and well.
Ms Chan's family said they were "relieved" at news that she is awaiting air evacuation from the Tsum Valley, while Ms McDonald is reported to have made contact with her family on Sunday evening.
At least 12 Scots were said to be missing, the ICRC revealed on Monday morning, with around 100 Brits or Irish-born nationals in total so far unaccounted for.
In addition to the two Dundee women, Brian Allan, 41, Darren Alexander Smith, 27, and Seobhan McGuigan, 41, all from Edinburgh were said to be missing, as are Brian Monteith, 22, Richard Jones, 59, and Jacqueline Toal, 34, from Glasgow.
Mitchell Carpenter, 23, from Aberdeen, Matthew Thorne, 36, from Stirling, Ross Cameron Smith, 22, from Dumfries, and Lynda Davis, 50, who is listed from Scotland, are also missing.
Meanwhile, a British expert who was working in the country before the devastation has said Nepal was under-prepared for a major earthquake despite the disaster being "almost inevitable".
Jon Bennett, director at Oxford Development Consultants, said the British Government had been investing in helping Nepal to prepare, offering training and equipment in anticipation of an earthquake.
He said there was a "lack of capacity", particularly at local government level, and a reluctance among very poor parts of the population to spend time and resources on planning for the future.
Mr Bennett, who was reviewing Britain's work in Nepal, told the BBC Radio 4 Today programme: "We have known for quite a long time that, after an 80-year period, it was almost inevitable there was going to be a large earthquake in Nepal. The British Government had indeed invested some money in the preparedness for this, along with the EU and the Americans and several others.
"It has to be said that, no matter how much effort is made in this respect, it is still a drop in the ocean. Everybody knows that preparedness is everything and yet, on the other hand, we had a situation where a government itself which has some capacity issues, especially at local government level, was struggling to get in place the kind of early warning systems and the provisions etc that would be necessary to deal with a large- scale earthquake.
"But I think, more important than that, there was a problem of attitude. For the most part, Nepalese are fairly fatalistic and it's true to say that trying to get some kind of enthusiasm for preparedness is difficult in circumstances where people are essentially very poor."
The full list of those missing are:
Scotland:
Brian Allen, 41, Edinburgh
Brian Monteith, 22, Glasgow
Darren Alexander Smith, 27, Edinburgh
Heather Chan, 34, Dundee
Lynda Davis, 50, Scotland
Mitchell Carpenter, 23, Aberdeen
Matthew Thorne, 36, Stirling
Richard Jones, 59, Glasgow
Ross Cameron Smith, 22, Dumfries
Jacqueline Toal, 34, Glasgow
Seobhan McGuigan, 41, Edinburgh
Susan McDonald, 41, Dundee
UK and Ireland:
Abdulla Dahab, 20, London
Adam Powell, 45, Great Britain
Alex Murphy, 25, Dublin
Andrew Robertson, 56, England
Ann McNeil, 66, Sussex
Arron Conran, 22, Ireland
Ashrafe Sultana, 31, London
Callumn Shally, 21, England
Chloe Pincho, 27, England
Ciaran Sands, 55, Ireland
Cliodhna Cork, 21, Dublin
Daniel Thomas Hughes, 36, Wrexham
Darine Flanagan, 22, Galway
Darren Russell, 26, Wrexham
Deniz Csern Oklavek, 48, Luton
Derek Waters, 56, Dartford
Emma Louise Waterton, 37, UK
Emmet Gallagher, 33, Dublin
Evan Mark Williams, 51, Wolverhampton;
Fiona Lamont, 26, Staffordshire
Gary Williams, 52, Plymouth
George Richard Wilson, 69, Manchester
Hayley Saul, 32, Northampton
Heather Stretton, 47, Louth, Lincolnshire
Helen Pounder, 21, Bishop Auckland
Huw Alexander Lashmar, 57, Wales
Ian Wainman, 42, Merseyside
Jack Kilpatrick, 24, England
Jack Young, 21, England
Jacqueline Bushe, 54, Donegal
Janet Brownlie, 59, UK
Jason Russell, 28 Wrexham
Jonathan Hikmet, 25, UK
Jonathan William Blott, 24, UK
Joseph Ire Sieder, 45, London
Karl Townsend, 43, Liverpool
Kathleen R Fellows, 70, England
Keith Diplock, 71, East Sussex
Laurence Benjamin Gerhardt, 24, UK
Lloyd Davies, 22, UK
Madelana Ryan, 48, Dublin
Marilyn Ann Harnett, 65, Saffron Walden
Mark Ian Skenerton, 50, Chelmsford
Martin James Edmonds Gattuso, 38, Harborough Magna, Warwickshire
Martin Oppenheim, 65, England
Martin Thomas Donnelly, 34, Stockport
Mary Magdelina Claus, 64, Nuneaton
Matthew Caraport, 23, UK
Matthew David Spruell, 38, London
Maurice Hanley, 54, England
Maxwell John Hynes Giusti, 45, London
Mike Russell, 42, Lancashire
Monica Redenham, 63, London
Naomi Everett, 24, Manchester
Niall Kavanagh, 54, Dublin
Nicholas Cooney, 71, Drogheda
Norah Arscott, 77, Somerset
Oliver McKevitt, 24, Northern Ireland
Pat Loughran, 66, Dublin
Philip James Green, 30, London
Rachel McDonald, 26, Kent
Richard Bannister, 64, England
Ruth Millington, 25, UK
Samuel Beckett, 23, Portsmouth
Samuel Luke Bond, 28, Bath
Shaun Bailey, 27, Stoke-on-Trent
Simon Charlesworth, 49, UK
Sinead Nic Cionna, 31, Monaghan
Sonia Downie, 50, London
Sophie Proffitt, 23, Oxford
Stephen Burke, 26, Ruislip
Su Browning, 62, Lambeth
Susannah Ross, 20, Bath
Terry Tremble, 56, England
Thomas Drumm, 55, Monaghan
Thomas William Southgate, 23, England
Tracy Ruth Powell, 45, UK
Victoria Barkas, 34, United Kingdom