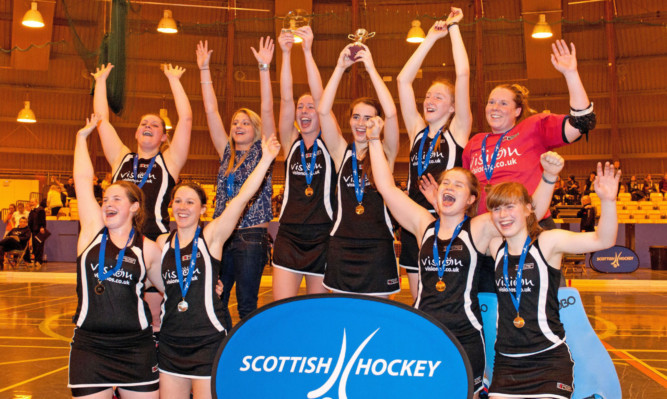 Dundee Wanderers Hockey Club celebrates a major milestone in its long and proud history this season.
The club, formed in 1934 by a displaced bunch of former Newport players, is hosting a dinner to celebrate its 80th birthday in May and is appealing for current and former members to attend.
The dinner is being held in the Apex Hotel and in addition the Wanderers committee would like former players and members to re-engage with the club to help move it forward.
With six men's outdoor teams and six indoor teams, along with two ladies' indoor and outdoor teams and an active junior section with boys and girls from the age of four to 18 years, it is the city's biggest hockey club.
Vice-president Benny Gibson said the dinner on Friday May 15 is an opportunity for past and present players to get together and push the club forward to even more success.
He added: "We want it to be a great occasion where past members can meet up again and reminisce with each other, but also meet the present players and the stars of the future.
"If any member cannot make the dinner we would still like them to contact the club as we are trying to engage with all former members to establish a former player club, to keep them up to date with the club's progress and social events, etc, in the future.
"Our intention is have a weekend of celebrations with games on the Saturday and a smaller function on the Saturday night."
The story of the club's foundation is an amusing one.
Former player and manager honorary Life Member and unofficial club historian Jim Shepherd, who managed the Scotsman Cup winning side in 1973, takes up the story.
"In 1934, the Newport club decided it was going to concentrate on local, ie Fife, talent and its Dundee-based players – many of whom worked for DC Thomson & Co Ltd – were left without a club.
"After applying to join the league, a meeting of the league management committee in Ingrams tearoom in Reform Street saw them being asked what the name of the new club was and where they would play their games.
"They didn't have a name or a home pitch and a cynical old Newport player, Freddie Ross said: `You're just a bunch of wanderers.`
"That was it, the name stuck and Dundee Wanderers was born – becoming Dundee's first non-school FP hockey club.
"Their first game was against Harris FP at Elliot Road, although the score in the game remains a mystery."
They lived up to the Wanderers title, shifting home grounds several times before finally settling on their present pitches at Dundee High School's Mayfield pitches on Arbroath Road.
Over the years the club has grown in stature to become one of Scotland's leading outfits, winning the Scotsman Cup twice, in 1973 and 1990, and the GB and Ireland Cup in 1989.
Dundee Wanderers then won the Scottish National League title in 1993 and regularly starred in European competition during more than a decade of success.
Indoors, the club really blossomed, winning the National Indoor League in 1999 and 2000 and in 2004 they had their most notable success, in the European Indoor Championships (B Division), bringing home the bronze medal.
That same year the club's Niall Stott became Wanderers' first ever Olympian.
The ladies' section was formed in 1996 and the firsts won the Scottish women's National Outdoor League Division 3 in 2004, followed a year later by the national indoor title.
Several of their players have also gained international recognition, with Vikki Bunce becoming their first female GB player and Becky Ward the club's first Junior Olympic gold medallist.
The birthday dinner, for all current and ex-players, members, umpires and volunteers along with their partners, costs £30 per head and starts at 7pm. For tickets, email dundeewanderers80th@gmail.com.