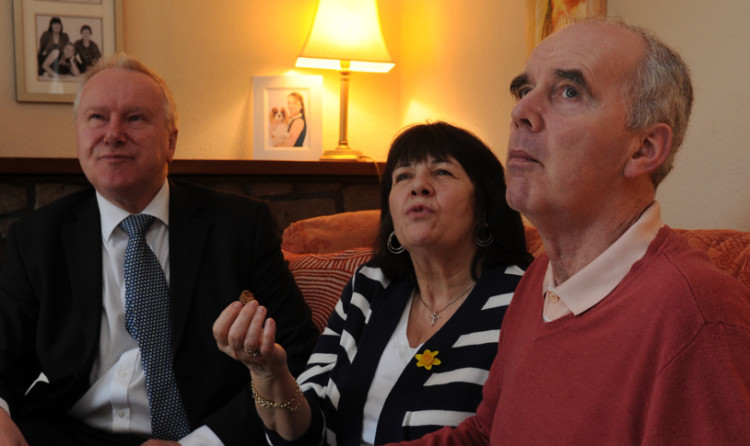 She has simultaneously cared for her husband and campaigned for free personal care for under-65s suffering from dementia for more than five years.
And although her husband, Dundee United legend Frank Kopel, will soon hit the age where he qualifies for the benefits, defiant Amanda Kopel has vowed to keep her fight going.
Health Secretary Alex Neil met the couple at their Kirriemuir home on Thursday, where he experienced part of their daily routine and admitted carers need more support.
He said: "It's been extremely informative and helped me to better understand the reasons behind Mrs Kopel's campaign on dementia care. I'll be carefully considering the points she has raised as we develop policy in this area.
"We have put significant effort into supporting carers over the past few years, but today has reaffirmed my view that we need to go further to ensure that carers receive the support they deserve.
"I will certainly be looking closely at the responses from the ongoing consultation on our proposals for new legislation to improve outcomes for carers and the loved ones they care for."
Mrs Kopel described the meeting as "very positive" and said she was "amazed" at "compassionate" Mr Neil's knowledge of the disease.
She said: "I'm amazed at the knowledge he (Mr Neil) has got about alzheimer's. He's a very compassionate man. It was a very positive meeting.
"He's going to address parliament and he's certainly come up with quite a few things to help under-65s.
"It doesn't matter if someone is 45 or 95, it's still a horrible disease.
"At the moment, not only are we battling this horrible disease, we are battling officialdom.
"Frankie turns 65 next Friday but I'm not going to go away. I'm going to shout from the rooftops for the others."
Frank, 64, who lifted the league cup twice during 10 years at Tannadice, was diagnosed with vascular dementia aged 59 and the couple were forced to leave their jobs and came to rely on council care services costing around £400 a month, despite only receiving just over £4 a day in state benefits.
After a meeting late last year, Mr Neil appeared to hand Mrs Kopel's campaign a victory and said he may close the "loophole" that denies younger dementia sufferers free care.
Mrs Kopel added: "He's pulling all the strings and I'm sure something positive is going to come out of it."