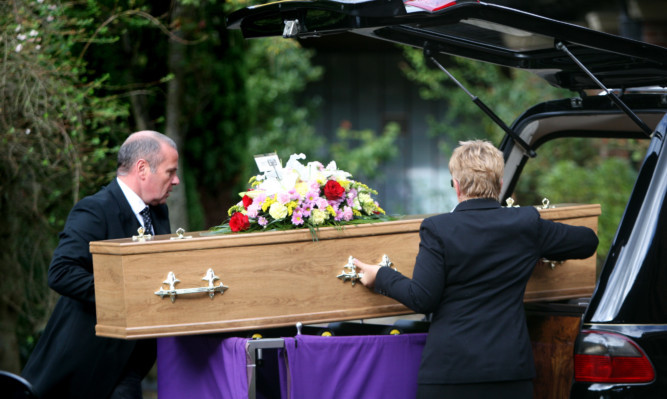 A final community-funded farewell to a "much-loved Dundee character" saw more than 150 people turn out to pay their respects.
The service for Pauline Smith, Lochee's homeless newspaper seller, was conducted by the Rev Jeremy Auld at Dundee Crematorium.
He spoke to those gathered of the "cheeky character" who used to have a kiosk in the city centre before she moved to her specially made desk-kiosk in Lochee's High Street.
Pauline worked as a newspaper vendor, and in her eulogy Captain Susan Tidball of the Salvation Army spoke of her dedication to her job.
She told the mourners of the one day Pauline almost missed the Salvation Army's weekly drop in session one Friday evening, only to pull up in a taxi shortly before the end wearing a hospital gown.
Captain Tidball said that Pauline's explanation for why she had left hospital, still with a cap in her hand, was to 'make sure they got their papers'.
However Captain Tidball said it was more likely Pauline didn't want to miss seeing her friends and drove her right back to the hospital afterwards.
Pauline was also well known at the local soup kitchen as well as St Peter and Paul's Cathedral in the city centre.
After the funeral, Pauline's sister Alison Rankin, who has been ill this last year, thanked all those who attended and helped organise the service.
A fundraising campaign saw 122 people contribute towards the £3,000 funeral costs after Pauline died suddenly from a heart attack aged 55.
Although she had very little, Pauline took part in a number of fundraising activities, including having her head shaved for cancer charities.
For this reason it was decided any money raised over and above the funeral costs would go towards Macmillian.
Donations towards Marie Curie nurses were also made at the funeral service yesterday.
The celebration of her life was organised by a local Marie Curie volunteer along with the Salvation Army.
The subsequent wake was hosted in Lochee Parish Church in Lochee High Street.