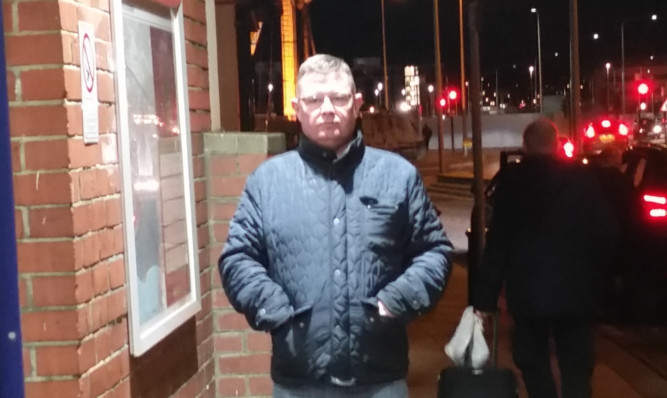 A man who soiled himself while attempting to purchase a train ticket in Dundee admits he has been left furious by claims he failed to make station staff aware of his chronic health condition.
Irritable bowel syndrome sufferer Paddy Jenkins, 50, who now lives in Livingston, was heading home last Sunday after a night out in Dundee when he quickly realised he needed to use the bathroom.
Paddy insists he informed the ticket clerk working behind the counter of his condition and made it clear that he had to get to a toilet urgently.
The 50-year-old former Dundonian claims he was told by the clerk that he would have to wait for a separate staff member.
Delayed in accessing a toilet, Paddy, whose brother lives in Dundee, was forced to soil himself.
Following his traumatic ordeal, Paddy launched an official complaint with station operators ScotRail.
Now, however, ScotRail have contacted the 50-year-old to say, that as far as they are concerned, "staff acted appropriately".
In a response to Paddy, ScotRail allege that, despite his criticism, "on this occasion, staff were happy to provide access to the toilets".
ScotRail go on to tell Paddy that "staff were not made aware of your condition."
The response has left an already frustrated Paddy dismayed.
He told The Courier: "I did explain that I had IBS.
"I told them I urgently needed the toilet.
"Why would I come back up and purchase a ticket? I would have just hopped on a train and gone back to Livingston.
"I can understand why the guy behind the counter couldn't leave the office, but when he told me to see the guy at the gate, I didn't see anyone there.
"I still feel like they could have done more.
"ScotRail should take some responsibility.
"I will be phoning ScotRail again, but I don't know what else to do.
"I'm really annoyed now."
A spokeswoman for ScotRail said that although staff were unaware of Paddy's condition, station workers did their best to help him.
She said: "We understand and appreciate this would have been an unpleasant experience for Mr Jenkins.
"Although they were unaware of his medical condition, our staff provided access to the station toilets for both Mr Jenkins and his brother."