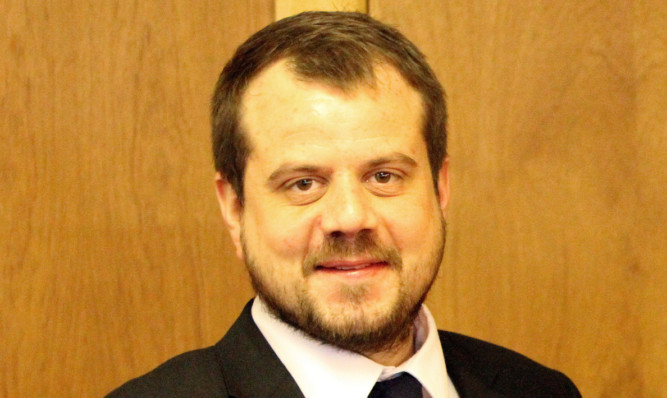 It could take six months to decide whether a councillor accused of sending Islamophobic texts has breached the Code of Conduct.
Maryfield councillor Craig Melville was suspended from the SNP and from his role as an aide to the party's deputy leader when the allegations he had sent abusive texts to a female Muslim colleague after the Paris terror attacks in November first emerged.
Police are investigating the claims while the Ethical Standards Commissioner for Scotland, who is responsible for investigating allegations of misconduct by councillors, has refused to say if he is even carrying out an investigation.
But it can take the organisation anywhere from one to six months to carry out an investigation and report findings.
Councillors who are found to have contravened the code can be suspended from council meetings for year or barred from holding office for up to five years.
Last year it took the Ethical Standards Commission six months to clear Perth and Kinross councillor Tom Gray over claims he had breached the councillors' Code of Conduct by making an "inappropriate comment" about ospreys in a planning discussion about T in the Park's move to Strathallan Estate.
Despite his suspension from the SNP, Mr Melville is still officially a councillor and convener of Dundee City Council's environment committee.
Mr Melville has not attended any meetings or surgeries since the allegations were made public.
Eben Wilson, director of campaign group Taxpayer Scotland, said Mr Melville should be fulfilling his duties.
He said: "Taxpayers fund his work, he should be doing it or his colleagues should act on our behalf and sort out what he should be asked to do next."
The councillor has refused to answer calls from reporters and there is no answer at his home in Broughty Ferry.
When asked if he had seen his son over the past fortnight, Mr Melville's father David, who also lives in Broughty Ferry, replied "no comment".
Mr Melville has not been seen at City Chambers for a fortnight or any of his constituency services.
He usually holds events at the Woodside Community Office on Graham Street on Thursdays, but Roma Fairweather chairwoman of Woodside Community Group said all surgeries have been cancelled.
She said: "He is an excellent councillor and has always responded very quickly to any queries I have had."