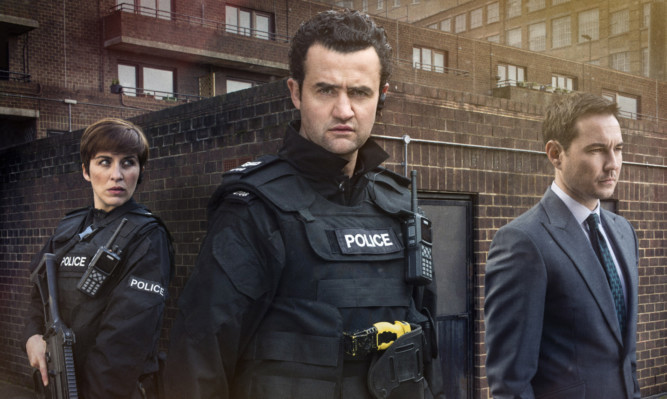 More than four million viewers tuned in to the last instalment of the BBC Two programme Line of Duty but fans old and new can look forward to the direction of Broughty Ferry-born film-maker Michael Keillor in the new series' first three episodes.
The acclaimed police corruption drama is returning to screens tonight after a two-year break.
Called in to investigate an armed response unit mission gone wrong, series three sees higher stakes than ever for members of the fictional anti-corruption unit AC-12.
Already a fan of the series when he joined the project, Michael promised that viewers will be shocked and excited by the action in the season premiere.
"It's the most exciting domestic cop show on British TV," he said.
"There aren't many contemporary police thrillers which have a political element to them."
The stakes have been raised by the introduction of an armed police unit. If a corrupt policeman is a danger to society, says Michael, a policeman with a gun is all the more risky.
Now based in London, Michael's success is happening at a time when local talent is making waves in film and TV.
Fans of Jericho or River City may be familiar with the directorial work of Broughty Ferry native Robert McKillop and the Fife-born Andrew Cummings.
McKillop, who hails from the same street as Michael in Broughty Ferry, recently directed three episodes for the new ITV drama Jericho.
Cummings recently directed Kai, a short about a contemporary dancer struggling to reach the expectations of her choreographer.
Michael is keen to encourage the next generation of film-makers to pick up a camera. With Dundee Contemporary Arts having celebrated its 15th anniversary this week and the waterfront regeneration well under way, he says now is a better time than ever for new talent.
Compared to 20 years ago when his career began, Dundee is far more nurturing of the arts. Michael references two cultural landmarks as major turning points in his life the release of Trainspotting and the now closed Steps Cinema.
"Steps was the only place for people like me to learn about different cinema," he said.
"Trainspotting showed that Scottish cinema could be the same as North American or European cinema."
Now aspiring film-makers can create films with just a mobile phone and a computer.
Being from Dundee, in fact, can actually work to your advantage despite of any naysayers.
Compared to Shoreditch, in which there are five film-makers in Michael's building alone, directors in Dundee have the chance to stand out.
"Don't think you can't be a film-maker just because you're not from or London or Hollywood," said Michael.
"Film-makers come from everywhere. It's about picking up a camera, having a go and not letting anyone tell you you can't do it."
How can we see a better reflection of Scottish stories and people in the arts?
With his work in high-quality television like Line of Duty, Michael's focus is to create a bigger pool of talent in Scottish filmmaking.
After all, creating shows like Line of Duty is part of his path to creating feature films primarily in Scotland. His current project is writing a homecoming tale set in the Highlands.
"I hope articles like this will help guys like me who are sitting at home thinking 'I could do that'."