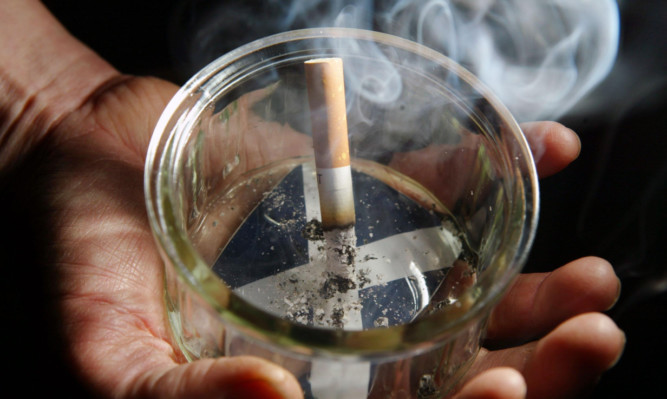 A study proving alcohol and tobacco is most available in Scotland's deprived areas has revealed Dundee is a hotspot for smoking-related deaths.
According to research from Edinburgh University, the Dundee city centre zone ranks third in the Scottish league of shame for deaths linked to tobacco use.
It also has the heaviest density of tobacco selling outlets in Tayside and Fife.
The study also showed that St Andrews tops the list for alcohol-related deaths in Fife.
Across Scotland, areas with the lowest average household incomes have the highest number of alcohol and tobacco outlets per head of population, while the most affluent communities have the fewest.
The research team concluded such a pattern may be contributing to inequalities in rates of alcohol and tobacco-related disease and are now urging policy makers to consider the links when drawing up policy.
Dr Niamh Shortt, senior lecturer in human geography at Edinburgh University, who led the study, said: "We already knew that alcohol and tobacco-related illnesses disproportionately affect people in deprived areas, and this study confirms that these areas also have the highest concentrations of alcohol and tobacco outlets. We need to alter the environments in which people live, including restricting the availability of these products.
"Failing to tackle a broader set of factors, including retail environments, may exacerbate health inequalities."
Analysis of the datasets showed the Whitfield area of Dundee was the most deprived area of Tayside and Fife and has the second-highest death rate from tobacco across both regions the 19th worst in Scotland.
Lochgelly in Fife, Blairgowrie in Perthshire and Forfar in Angus had the most tobacco deaths in their respective authorities. The Hilltown area of Dundee topped alcohol-related death table for the four areas.
One in five deaths in Scotland is caused by tobacco use and one in 20 is linked to alcohol.
The study's findings will be presented at the Global Alcohol Policy Conference in Edinburgh which runs until Friday.
It used alcohol licensing data and a tobacco retail register to calculate the density of outlets in regions across Scotland.