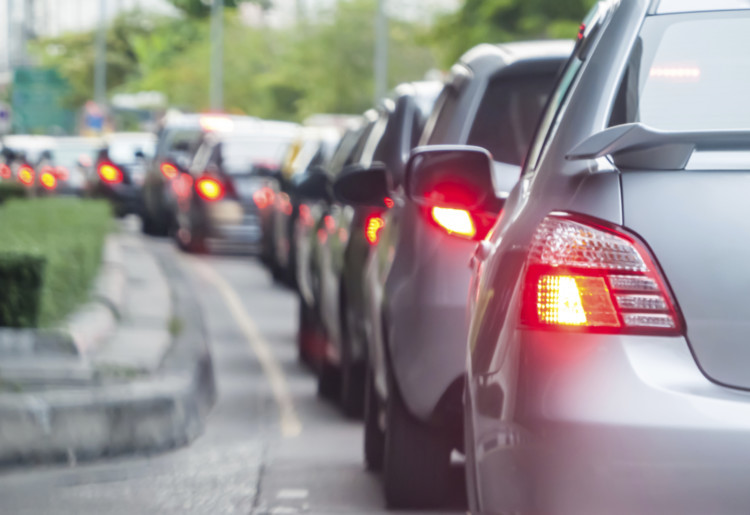 When we're trapped in rush-hour traffic, most of us indulge in a moan and a gripe. We like to think it makes us feel better. But perhaps those of us who believe it's a battle negotiating Dundee's streets at peak periods could benefit from a reality check. It's among a handful of cities which can boast the quickest moving rush-hour traffic in the UK, according to analysis by Direct Line Drive Plus.
Tasked with the job of discovering how Dundee city centre's traffic compares with the likes of central London which has the slowest peak-period speed in the country with an average of 10.06mph in Westminster I set out on two test drives last Friday.
The first experiment was conducted mid-morning, a period when you would expect traffic to be fairly free-flowing. I left DC Thomson's offices on Dundee's Kingsway East at 11.20am and travelled along the carriageway to the Swallow roundabout. The journey took a mere 10 minutes, and no, I wasn't speeding. Back at base afterwards, I calculated the average speed a respectable 36mph.
I took a different route to return, driving along Riverside, through the city centre, along Dock Street and then back onto the Kingsway. This took me 14 minutes. When I wasn't stopped at traffic lights, I was travelling between around 25mph and 40mph, working out as an average speed of 32.1mph. Not bad at all. Over the whole mid-morning journey, the average speed was 33.8mph.
The second test drive, during rush hour, was something I was dreading. I took the same route along the Kingsway to the Swallow roundabout at 4.45pm. It took 15 minutes five minutes longer than the mid-morning journey. This worked out as an average speed of 24mph and the slight delay was largely down to queuing traffic at the multiple roundabouts along the Kingsway.
I took the Riverside Drive route back to the office and was expecting utter mayhem. To my surprise and delight, the flow of traffic was pretty much uninterrupted the whole way. While the mid-morning drive had taken 14 minutes, the rush hour attempt had only taken 17. So an extra three minutes and an average speed of 26.47mph. I somehow felt like I'd cheated the system; I'd been hoping to report huge tailbacks and road rage, but this simply hadn't happened.
Perhaps if I'd conducted the experiment a little later the situation might've been different, but I was doing it during what most people would term rush-hour.
Getting back to the office a little after 5.15pm, I was ready for madness up the A90 north as I headed home, but once again, the traffic was free-flowing. I started to wonder why this was; was there something going on I was unaware of? Perhaps it was simply that it was a sunny Friday and people had left work early or disappeared on holiday? Whatever the case, it was a welcome surprise.
It certainly seems to be true that Dundee boasts among the quickest rush-hour traffic in the UK, if my tests are anything to go by. I'll try to remember that when I feel impatience building on the drive home.
If that doesn't work, I'll remind myself of the horrendous experience I used to endure on a daily basis when I worked in Aberdeen. I'd finish around 4pm and travel from the Aberdeen Journals HQ on the Lang Stracht to a gym in Bridge of Don, a mere five miles away. I wasn't dressed in my workout gear until 4.45pm, and my heart rate was through the roof before I'd even begun the cardio session.
The survey found the fastest rush-hour rates were in Peterborough, with an average speed of 19.25mph, followed by York (17.64mph). But my personal survey showed that Dundee beat this with an average speed of 26.12mph calculated over the whole rush-hour journey.
According to the survey, a typical rush-hour slows traffic speeds in urban centres by an average of 3.6mph. In Dundee last Friday, it slowed by an average of 7.63mph and took an extra seven minutes at rush hour.
Although not recording the lowest average rush-hour speed, Canterbury took the unwanted accolade of the city most affected by peak-period traffic, with the rush hour adding almost 10 minutes to a normal 30-minute journey. The next most-affected cities were St Albans in Hertfordshire where rush-hour drivers were likely to be delayed for 8.9 minutes and Worcester (8.6 minutes).
After Westminster, the slowest rush-hour speeds were to be found in Lancaster (10.88mph), Cambridge (11.30mph) and Hereford (11.49mph).
Among the quicker-moving rush-hour locations were Coventry, Chelmsford in Essex, Swansea, Stoke-on-Trent and of course, Dundee.
Thursdays, rather than Mondays or Fridays, appeared to be the worst day for rush-hour congestion, according to the survey.