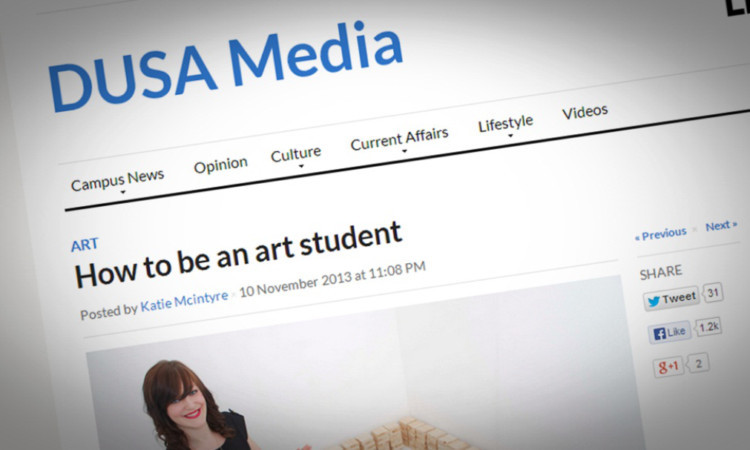 A student magazine has come under fire for an article which describes art students in a derogatory way, branding them lazy, unwashed and untalented drug users.
The supposedly humorous 'How to be an art student' feature has resulted in a furious online backlash after it was published in the Dundee University Students Association (DUSA) magazine, The Magdalen, and DUSA Media website.
Written by student reporter Katie McIntyre herself an art student the article had a disclaimer stating it was intended as a joke, but its many offensive comments left some far from happy.
The outrage reached beyond the university with some former teaching staff, graduates, and business owners expressing their disgust and claiming the piece devalues the renowned art school.
Notable graduates of Duncan of Jordanstone College of Art and Design (DJCAD) include international fashion designer Hayley Scanlan and 2010 Turner prize winner Susan Philipsz.
University alumni and former DJCAD staff member Steven James Herd said the piece was "host to a series of ignorant, tactless and offensive remarks relating to a huge number of talented individuals."
Dylan Drummond, owner and director of Dundee production house Son of the Sea, accused the writer and editor of "cyber-bullying", while Lauren McCorkindale, designer and maker at Starryeyed Crafts, added: "DUSA Media cannot be allowed to print stuff that alienates its students."
In a joint statement citing freedom of speech, the magazine's editor-in-chief Danielle Ames and the manager of DUSA Media's website, Felix Reimer, said they stood by the author, who had become a victim of online threats after the publication.
They said: "Over the years, DUSA Media has covered many groups on campus in both serious and humorous ways.
"We stand by our author, just as we have stood in the past with contributors across all our outlets who have expressed their views on a wide range of issues, and we will continue to do so in the future."
Iain MacKinnon, president of DUSA, said: "The editor of The Magdalen and the DUSA Media online manager, along with our other two media managers, have independent editorial control and we would not seek to censor them except in extreme cases.
"Articles are not commissioned by DUSA, but rather suggested by students themselves. In this case, the author of the article is a DJCAD graphic design student who wished to write a self-deprecating humorous piece.
"I have discussed this matter with all our media managers and I am sure they will take all feedback, both positive and negative, on board when publishing future content."
Dundee University declined to comment.