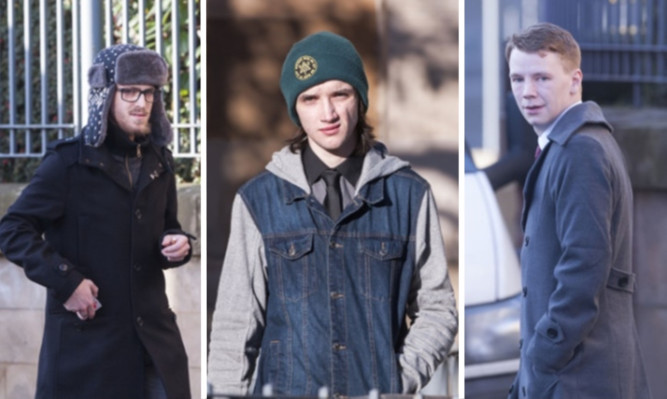 A trio who dressed in capes, masks and camouflage gear before holding a gun to a schoolboy's head during a "terrifying" robbery have been jailed.
Rifle toting Adam Parkin, along with Kieran McIntyre and Liam Scott – dubbed the Clatto Park Commandos by court sources – set upon the four boys, aged 14 and 15, in woods on the outskirts of Dundee.
The boys, who cannot be named for legal reasons, were camping in the Baldragon Woods, in Clatto Country Park, Dundee, in March last year when McIntyre, Scott and Parkin launched the "horrifying" attack.
One of the trio's lawyers said there was "cruelty" and "sadism" involved in the offence.
Sentencing the men, a sheriff said: "They were left in fear of their lives."
The young victims were hauled from their tents – with one told "get out or I'll blow your head off" – and sat on rocks with torches shone in their eyes while Parkin, who was wearing a cape and described as the "leader", demanded valuables.
One of the boys had the barrel of a rifle put against the back of his head by Parkin and was then marched into his tent to retrieve his mobile phone.
The terrified youngsters were then ordered to stay in their tents until sunrise or they "would be shot".
One of the thugs later told police it was "intended as a joke".
Fiscal depute Eilidh Robertson told Dundee Sheriff Court the boys were left "fearing for their lives" by the attack.
She said: "The boys, two aged 14 and two aged 15, were camping and set up their tent and made a small fire, which they sat by until 11pm before going to sleep.
"Some time after midnight they were aware of rustling outside the tent and saw torchlights.
"A torch was then shone in and Liam Scott, putting on an English accent, said 'are you getting up then'.
"Parkin then, also putting on an English accent, said 'get out of the tent'.
"Three of the boys exited and Parkin was seen pointing a rifle at them and said 'run and you will get shot'.
"The three boys were told to sit down on rocks near the tents and torches were shone in their faces so they were unable to see clearly.
"All of the males were dressed in camouflage, military style clothing with faces masked and only eyes visible.
"Parkin was also wearing a cape and was described as being 'like the leader'.
"They were told another boy was still asleep and Parkin walked over and said 'I'm giving you 30 seconds to get out of there or I'll blow your head off'.
"Parkin then said 'if you co-operate and give us your valuables then you won't be hurt or killed'."
The terrified boys then handed over mobile phones, cash and cigarettes.
Miss Robertson added: "One of the boys said his phone was in the tent and Parkin told McIntyre and Scott to enter and look for it.
"They couldn't find it so Parkin pressed the barrel of the gun into the back of the boy's head and told him to 'go and get your phone'.
"Parkin walked him to the tent, still pressing the gun into his head, and stood at the doorway while the boy retrieve the phone.
"The boys were then told to get back into their tents and that they could not leave the area until sunrise or they would be shot.
"The boys descrived the incident as 'shocking' saying they were 'in fear for their lives', 'shaken', 'terrified', and 'frightened'."
McIntyre, 21, of Campbell Street, Dundee, Scott, 19, of Eden Street, Dundee, and Parkin, 20, of St Dennis Terrace, Dundee, all pleaded guilty on indictment to a charge of assault and robbery.
Scott and Parkin futher admitted charges of possessing an air rifle without lawful authority during the attack, on March 7 2014.
David Sinclair, for Scott, said: "He knows the terror he has imposed on these young boys through and is extremely regretful and knows that he may pay a heavy price for it."
And solicitor advocate Kris Gilmartin, for Parkin, added: "He's extremely contrite and indicated at interview he was disgusted by his involvement.
"As far as he is concerned custody is a black hole he will not come out of."
Sheriff Lorna Drummond QC jailed all three for 18 months each.
She said: "You robbed four teenagers aged 14 and 15, demanded they left their tents, shone torches in their faces and presented them with an air rifle and threatened them with violence.
"That must have been a terrifying experience for those young boys.
"They are described as being left in fear of their lives.
"My view is that this is a very serious matter and not withstanding all the mitigating circumstances there is no alternative but to impose custody."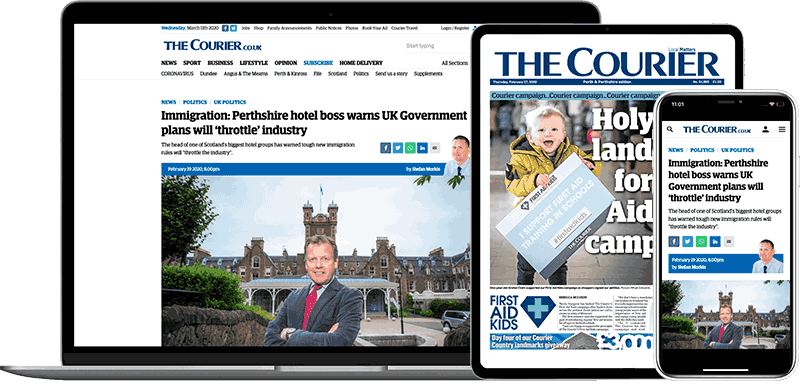 Help support quality local journalism … become a digital subscriber to The Courier
For as little as £5.99 a month you can access all of our content, including Premium articles.
Subscribe