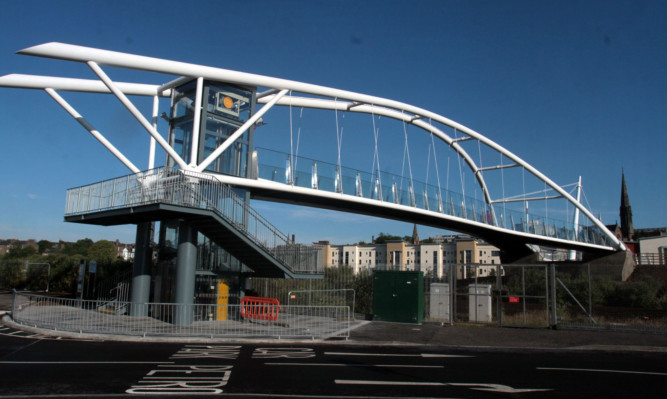 Dundee's new multi-million-pound Seabraes footbridge has been vandalised within weeks of its opening.
Graffiti which we are choosing not to show was discovered spray-painted on to a glass section of the structure by city engineers.
Dundee City Council's rapid response team was detailed to remove the "tag" swiftly and it has already been cleaned off.
The temporary damage could, however, result in the introduction of measures to protect the bridge from further vandalism.
CCTV cameras have already been installed on the bridge and in the lift, but Police Scotland said it had been unaware of the spray painting.
West End councillor Fraser Macpherson said he was "extremely sorry and angry" to hear that somebody had targeted the bridge.
"I contacted the rapid response team with a view to getting the graffiti cleaned up as soon as possible," he said.
"I had just been talking with the city engineer about taking steps to ensure the bridge isn't vandalised.
"CCTV cameras and regular patrols are some of the options.
"We need to ensure this does not happen again, so I'll be making a point of contacting the relevant departments again to follow this up."
The £3.5 million Seabraes bridge is designed to improve links between the new waterfront development and the rest of the city.
The impressive structure leads pedestrians over the rail lines and links Perth Road to Riverside Drive, coming down at Tesco petrol station.
It has proved a huge hit with users and city residents since it opened in June after nine months of construction.
Helen Brady, 61, a customer service assistant who works near the bridge, hit out at the damage.
She said: "It is a shame the bridge has been vandalised as it has been very busy since it opened.
"It really is a good thing for the city, so this is quite shocking. Hopefully it won't happen again."
Rosie Cleary, 44, said: "The bridge looks so good. It's awful that someone would spray it with graffiti."