 A partially-sighted engineer with Dundee City Council has become the public face of a national campaign to dispel the myths about what people with sight loss can and cannot do.
Mark Wilson is one of eight men and women to feature in a major new report by RNIB Scotland, entitled This Is Working (PDF link), which aims to change the Scottish workplace.
There are an estimated 8,500 people of working age in Scotland who are blind or partially sighted, but the charity believes they remain among the most disadvantaged groups in society when it comes to employment.
RNIB Scotland director John Legg said too many employers still have misconceptions about what workers with sight loss can achieve and hopes the experiences of people like Mark will make a difference.
Mark studied mechanical engineering at Abertay University and has now worked for the council for seven years, despite being partially sighted since birth.
"There was a period in my life during which when I applied for jobs I'd get a 'no' straight off the bat," he said.
"When I asked them they said they were concerned about employing someone with sight loss, even though I was applying for jobs I was confident I was capable of doing.
"But people with sight loss can be valuable employees. If they are the right person for the job you'll find a way around the disability."
Mark has "high myopia", which means he can see things very close up but the further away they are, the less detail he can make out.
"I work in road maintenance, with most of my work based in the office and my job can be pretty visual, but as an employer the council has always been very accommodating," he said.
Mr Legg said he hoped the report would address the issues faced by people with visual impairments, most of whom are not completely blind and do not have guide dogs.
"In many cases employers might only need to make minor adjustments to the workplace," he said.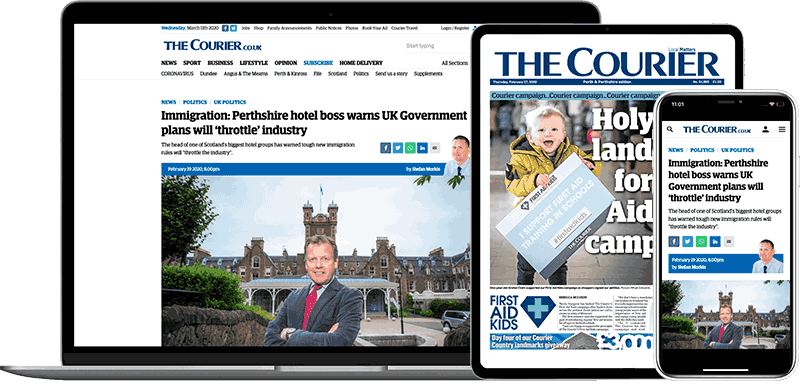 Help support quality local journalism … become a digital subscriber to The Courier
For as little as £5.99 a month you can access all of our content, including Premium articles.
Subscribe