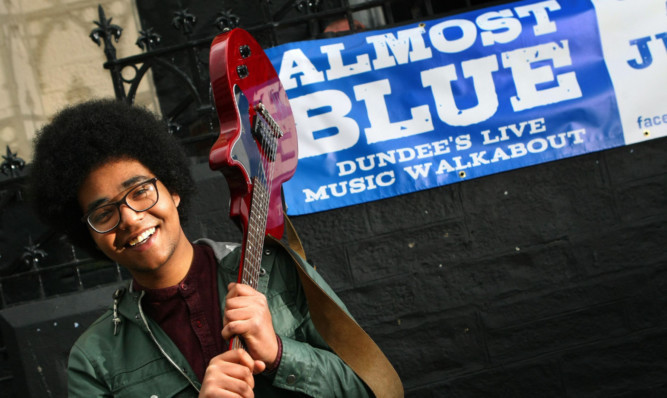 Almost Blue, the Dundee music festival set up after the collapse of the Blues Bonanza, is gearing up for its biggest year so far.
More venues and more acts have joined the live music event, bringing the number of venues to 22.
The event is expanding into Broughty Ferry, with the Gardyne Theatre and several other Ferry venues joining the line-up.
Thousands of music fans are expected to flock to pubs and venues over three days from July 3 to 5.
A spokesman for Almost Blue said: "With exactly a month to go to this year's festival, we are delighted to announce the increased number of venues taking part this year.
"Once more the vast majority are in Dundee city centre, however it's extremely pleasing that like-minded venues in Broughty Ferry have agreed to participate as it extends the boundaries of the festival and will allow for more expansion in the future, to take advantage of Dundee's burgeoning live music and cultural scene.
"We have big plans for the future of the event in Dundee and this is yet another step forward in those plans to make it, if not the biggest, then certainly one of Scotland's largest and most important summer street festivals.
"From small beginnings three years ago, Almost Blue has grown immeasurably to step into the void created by the sad loss of the Blues Bonanza.
"The organisers of that festival deserve the utmost credit for what they created and developed, which was the biggest free blues music festival in Europe. We hope not only to emulate that in future years but to exceed even those lofty heights."
The festival kicks off on Friday July 3 with live music in several pubs throughout the city centre, while Gardyne Theatre is hosting its female singer-songwriter showcase.
Live acts will perform across the venues on Saturday, with the Gardyne Youth Music Initiative showcase, involving 10 up-and-coming local acts, and the music continues throughout Sunday.
The full list of venues taking part is: the Bank Bar, Beau Nightclub, Boudoir, Buskers, Cask & Cork, Clark's on Lindsay Street, Decades, Doc Ferry's, Fort Hotel, Gardyne Theatre, Gunners, Laings, McDaniels, Nicoll's, Number 57, Old Bank Bar, Pillars & Salty Dog, Post Office Bar, Redd, the Globe, the Vestry and the Westport Bar.