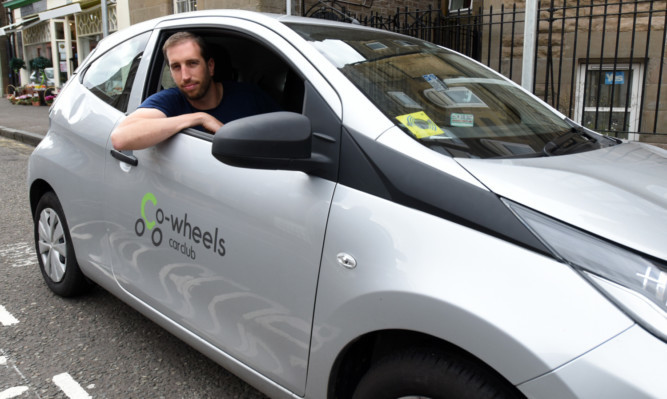 Owning a car is expensive.
You have to buy it, insure it, service and MoT it and fill it with fuel. Public transport is much cheaper but it doesn't always get you where you want to go when you want to be there.
What if there was a way of having the convenience of a car without the expense?
Co-wheels is a social enterprise (it reinvests all its profits) car club that lets you rent vehicles by the hour.
It's just launched a service in Dundee and I was dispatched to road test the scheme. My mission: book a Co-wheels car, make a journey in it and compare the cost and convenience to public transport or owning a car. The operating model is simple: you pay a £25 one-off joining fee and commit to spend at least £5 a month, then once your membership card arrives in the post, you can get started.
The website www.co-wheels.org.uk lets you book cars online. An interactive map shows which models are parked where they're in reserved bays all around Dundee city centre. You pick one, check availability and click to book. Most of the vehicles are electric Renault Zoes, Toyota hybrids, or small city cars.
I live in the west end of Dundee. A Toyota Aygo is available on nearby Perth Road. Bingo.
My plan is to drive to my parents' home near Markinch. I'll have a cup of tea, play with their guide dog puppy, then head back to Dundee.
It's a distance of 25.5 miles so I book a car for three hours. It takes five minutes to walk from my flat to its bay. I swipe my card on the dashboard, the car unlocks, I grab the keys from the glove box and start her up. Easy.
Thirty-five minutes later, I'm parking up in my parents' driveway, the kettle is on and a mad golden retriever pup is pouncing on me.
An hour later, I set off back to Dundee, park the car, put the keys in the glove box, use my swipe card to lock it and saunter back to my flat.
So how does it compare to public transport, or taking your own motor?
My Co-wheels car cost £3.75 an hour, so £11.25 for the three hours I needed it. A return train ticket from Dundee to Markinch is £13.10 and a return bus fare from there to Star an additional £3.90. I would also have had a half-hour wait for the bus.
According to the AA, a small car doing 5,000 miles a year costs 56p a mile to run so my journey would have cost £14. That made Co-wheels even cheaper than taking my own vehicle.
You do need to live close enough to the available locations but for city dwellers, it offers cheap, no-strings motoring.
See Tuesday's Courier for the chance to win free membership plus £20 drive time.