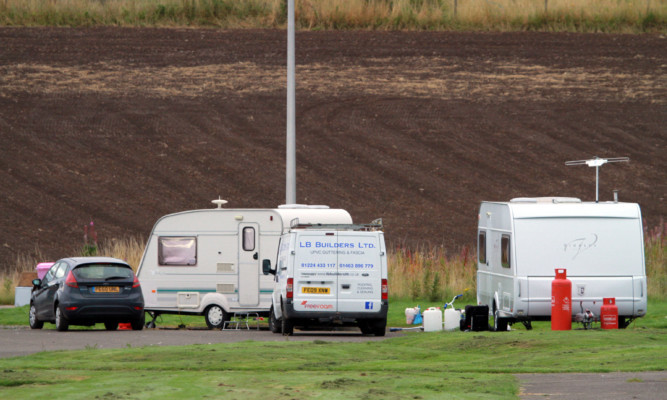 The arrival of Travellers at a Dundee industrial estate less than a month after a group vacated the rubbish-strewn site has been blamed on the local authority.
Dundee City Council struck a deal with Travellers allowing them to use Jack Martin Way earlier this year as the official camp at Tealing was overbooked.
But when Travellers finally left last month they left tonnes of rubbish strewn across the site.
The appearance of around a dozen caravans just a few weeks later has left residents furious.
Amanda Irvine, 48, from Emmock Woods, was horrified to see the latest encampment just off the A90.
Fed up-Amanda, who stopped walking her dog there when the Travellers arrived, insists she has no issues with the group being there if only they would clean up after themselves.
She said: "I know Travellers have rights but so do I.
"The place was an absolute disgrace the last time they left it.
"There were signs, wheelbarrows, all sorts of stuff left behind.
"What grates me is that the people of Dundee are having to pay to clean up after them.
"I'm sure that money could be spent on something else, something more useful.
"The last time I looked littering was an offence but they seem to be able to get away with it.
"My husband came home from work one night during the summer and there was a woman doing the toilet outside her van. No one wants to see that.
"I don't think it's right that people pay council tax to clean up after Travellers."
Brian Gordon, Labour councillor for the north east ward, said: "No doubt it has gone all around the Travelling community that the council had made it a campsite and they feel like it is their natural home.
"But at the same time they are depriving dog walkers of a popular walk because people won't walk there while they are camped."
Mr Gordon added it is likely taxpayers will be hit with another clean-up bill once Travellers vacate the site again.
He said: "History has shown there has only been one group of Travellers that cleaned up after themselves and that was at Riverside."
Mr Gordon also said the council's policy of not pursuing legal action against Travellers was a false economy as it only costs around £60 for a court order.
The Travellers themselves were defiant when visited by The Courier.
As well as a number of caravans, there were also several vans parked alongside bearing the name LB Builders Ltd.
One man refused to say how long they intended to stay on the site or why they had chosen to camp on Jack Martin Way.
"It doesn't make any difference. It's not any of your business," he said.
A Dundee City Council spokesperson said: "There is a small number of Travellers at Jack Martin Way.
"We are currently assessing the situation and maintaining a dialogue with the Travellers."