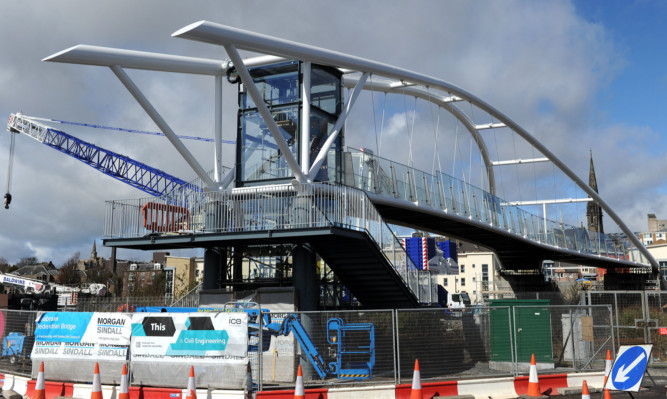 Dundee's multi-million-pound Seabraes Bridge will open next week.
The crossing, which connects the West End with the waterfront, will open on Tuesday.
The £3.5 million structure was swung into place by construction workers in April with finishing works taking place since.
An official opening with the Scottish Government's transport minister is expected later this year.
West End councillor FraserMacpherson said: "The important thing is to get this new bridge opened so I am pleased there is now certainty aboutthis.
"It looks really good and will give a great new link between Riverside and the Seabraes/Perth Road areas."
https://youtube.com/watch?v=iEs12yz0SF8%3Frel%3D0
The official opening had been expected to take place on June 16, but the council's city engineer has said this will now be a soft launch as Transport Minister Keith Brown is unavailable.
He said: "Just to confirm that theofficial opening will not take place on June 16 as the transport ministercannot make that date.
"Instead the official opening will be arranged for August/September after the schools have returned from thesummer holidays.
"Now, the bridge is currently planned to open on June 16 without anythingofficial happening."
City development convener WillDawson said: "The Seabraes footbridge is an important part of the waterfront development and I am delighted it will be opened next week.
"With its stunning design andstrategic location, it is sure to become a landmark in no time.
"Thanks to the new bridge pedestrians and cyclists will get easy access from one of the main arteries of Dundee to the heart of the waterfront."
The project is being funded from a range of sources, including the Vacant and Derelict Land Fund, ScottishEnterprise, Cycling Walking and Safer Streets, Dundee City Council and the developers of the new flats.