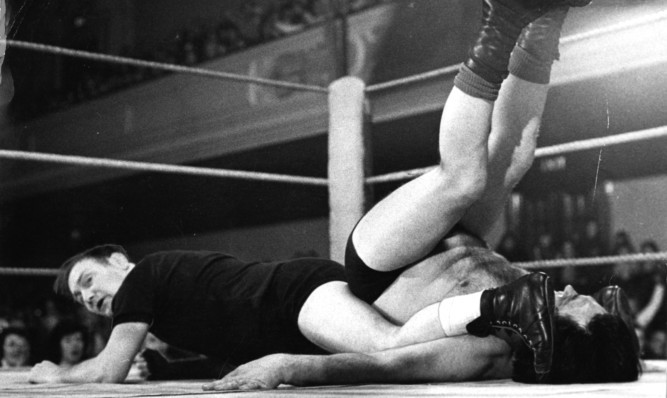 There are plans for a permanent memorial for legendary Tayside wrestler George Kidd who held the world lightweight title for 26 years.
Kidd's career, which stretched to more than 1,000 bouts and only seven defeats in more than 30 years, made him an idol with Dundee wrestling fans who cheered him on to victory on dozens of memorable nights in the Caird Hall.
It was there that he retired undefeated as world champion at the age of 51 after defending his title 49 times the longest undefeated champion in the sport's history.
Now the Scottish Wrestling Entertainment (SWE) plan to present a plaque to Mr Kidd's family when it stages Hell for Lycra XII at the Caird Hall in August.
Promoter David Low said it is hoped the plaque will remain a fixture in the Caird Hall where Kidd competed in his first paid contest just after the Second World War.
He said: "A plaque is long overdue. Everyone I have spoken to says he was a true gentleman.
"I have been trying to track down his family members so that the legendary Len Ironside another famous Scottish wrestler who was trained by George can present this to them."
Born in Dundee, Kidd was brought up in the Hilltown, and educated at Clepington Primary and Stobswell Secondary School.
He began wrestling when he enlisted in the Royal Navy in 1943 and after the war he went to England to pursue his passion and began a glorious career.
At 5ft 6in in his socks, he was thought too small to be a professional wrestler but was given his chance by promoter George de Relwsykow at the Caird Hall.
In 1947 he took part, and emerged victorious, in a tournament in Edinburgh for the Scottish lightweight title, defeating Tony Lawrence.
After defeating Jack Dempsey in 11 rounds for the British lightweight title in 1948, Kidd went on to defeat all comers in the 1949 tournament in Paris to be crowned European Lightweight Champion.
Kidd then set his sights on the world title which he won by defeating Rene Ben Chemoul.
In his retirement he led a quiet life, living in Lawrence Street in Broughty Ferry before his death aged 72 in 1998.
The Caird Hall will roll back the years on August 29 when the SWE's home-grown grapplers will be lining up alongside World Wrestling Entertainment Hall of Fame inductees Terry Funk and the Million Dollar Man Ted DiBiase.
gstrachan@thecourier.co.uk