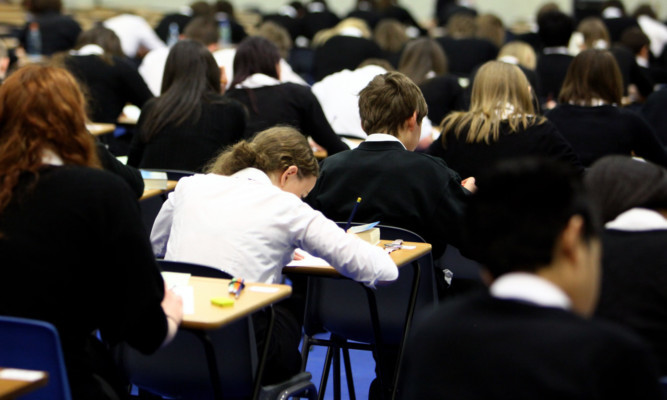 Further details of a planned shake-up of high school timetables in Dundee have been revealed.
Parents received letters outlining plans to introduce a 33-period model in secondary schools from May until June 2016.
The letter claims the new plan will not alter the number of teaching hours for pupils or the length of the school week, but that it will create a more efficient timetable.
If adopted, the timetable would mean all schools in Dundee running on the same schedule, with pupils finishing at 3pm on Mondays and Fridays and 3.50pm on Tuesdays, Wednesdays and Thursdays.
Education convener Stewart Hunter said: "We did take a report to committee back in 2012 and while parents were in favour, staff at that point weren't.
"We decided at that time not to introduce it.
"However, the head teachers have asked us to consider it again because they believe that changing to the 33-period week will bring a huge benefit to teaching.
"My opinion was that if the head teachers believe this then we have to support them and consider again introducing it.
"Some of our schools have already gone to a 33-period week. It means that, particularly in the senior stage, they can deliver the curriculum better.
"The revised approach to time-tabling using a 33-period model would help to deliver two hours of physical education, extend opportunities for vocational education and allow more time for practical subjects."
Some believe the early finishes will pose problems for working parents, and that forcing them to leave work before 3pm or pay for child care would be "unreasonable".
The parent councils of schools around the city are set to meet this week to discuss the changes.
It has also been reported some teachers are not happy with the proposals, fearing they will end up working longer hours.
David Baxter, Dundee branch secretary of the Educational Institute of Scotland, said he was aware there are concerns from staff over the way teachers have been consulted.
He said: "We are keen to know our members' views and have emailed a survey for teachers and representatives. We would encourage everybody to fill this out."
He added: "We are taking a more proactive approach and will support the overall decision of our members."
Parents have been asked to submit their feedback on the proposals by Thursday.