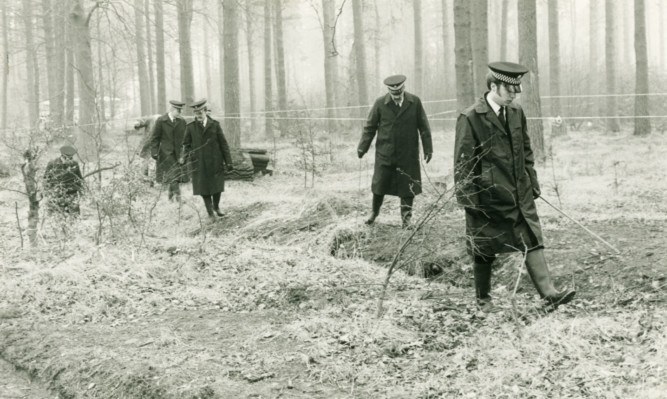 A former police intelligence officer has claimed that World's End killer Angus Sinclair was also responsible for two notorious unsolved murders in Tayside.
Chris Clark and journalist Tim Tate investigated unsolved cases from across the UK for a new book about Yorkshire Ripper Peter Sutcliffe's "secretmurders".
Mr Clark, who served with the police from 1966 to 1994, believes Sutcliffe did kill in Scotland while working as along-distance lorry driver but ruled out a link to the Dundee murders.
However, Mr Clark said his evidence points to the man responsible being serial killer and rapist Angus Sinclair, who was jailed for 37 years in November 2014 for the World's End murders in 1977.
The body of 20-year-old Elizabeth McCabe was discovered in Templeton Woods on the outskirts of Dundee in 1980 only 150 yards from where the corpse of Carol Lannen, 18, was found almost a year before.
Vincent Simpson was tried for the murder of Elizabeth McCabe in 2007 but walked free from the High Court in Edinburgh after the jury returned a not guilty verdict.
Speaking exclusively to The Courier, Mr Clark said: "I am familiar with the murders of Carol Lannen and Elizabeth McCabe as I spent some timeresearching them.
"My own feelings are that a serial killer was responsible.
"Vincent Simpson wouldn't fit that bill because there was no evidence that he had murdered before or since.
"The police should instead befocusing their attention on AngusSinclair."
Sinclair raped and strangled 17-year-olds Helen Scott and Christine Eadie after a night out at the World's End pub on Edinburgh's Royal Mile in October 1977.
Mr Clark said: "Sinclair had acampervan which he took away on weekend and holiday fishing trips with brother-in-law Gordon Hamilton.
"On Monday November 19 1978 17-year-old Mary Gallagher wasmurdered and her body found at the foot of a 20ft wall near a footpath crossing waste ground between Flemington Street and Edgefauld Road inSpringburn, Glasgow.
"Sinclair held a knife to her back, made her take off her clothes,strangled her with the leg of hertrousers, raped her and slit her throat three times.
"Her handbag was missing.Sinclair would not be caught for another 23 years.
"On Wednesday March 21 1979 the strangled and naked body of CarolLannen was found in Templeton Woods close to Clatto Reservoir, which is apopular fishing venue.
"Her handbag and clothing would later be discovered some 80 miles away washed up on the riverbank of the River Don near Kintore, a popular salmon and trout river.
"On February 26 1980, almost ayear after the murder of Carol Lannen, came the discovery of 20-year-old trainee nurse Elizabeth McCabe's naked strangled body in Templeton Woodsjust 150 yards from Carol Lannen'smurder.
"It would appear that she had been choked to death with her own blue jumper, which was similar to the Mary Gallagher method.
"Her handbag and shoes werelater found thrown away some three miles away in Cobden Street, on the route to the River Tay and the Tay Bridge.
"My personal thoughts are thatthese are Sinclair's crimes," Mr Clark concluded.
Detective Superintendent Bobby Hendren, of Police Scotland's Homicide Governance and Review, told TheCourier: "The murders of Carol Lannen and Elizabeth McCabe initially formed part of the Operation Trinityinvestigations that led ultimately to the conviction of Angus Sinclair for the World's End murders.
"In both cases all investigativeopportunities were explored and there were no charges brought in relation to the Dundee murders.
"As with all unresolved crimes, these two murder investigations are subjectto periodic review and any new evidence identified by or brought to the police's attention will be fully investigated," he added.