 Calls to ban mobile phones from the changing rooms at Olympia swimming pool have been made after a man pleaded guilty to trying to film a child.
On Tuesday Lee Coull, 26, held his mobile phone over the top of a cubical and tried to video or photograph the teenager as they removed their swimwear, Dundee Sheriff Court heard.
The incident has led to a campaign and petition being launched to ban mobile phones from the unisex changing area in an effort to better protect children.
Posting on the campaign Facebook page, 'Ban mobile phones from Olympia Leisure Centre Dundee', organisers said until tighter security measures are implemented, who could tell how many children had been pictured without knowing.
They said: "How it's done would not be our call, we merely want something in place to try and avoid the situation happening again.
"Obviously where there's a will there's a way just like airports, prisons etc, and if something is put in place occasionally somebody will slip through the net, but the safety of children is paramount and we want them to ensure that safety."
A petition launched on the ipetitions website attracted almost 100 signatures in its first day and organisers hope to reach a target of 1,000.
The sheriff court yesterday heard the frightened child involved in Tuesday's incident shouted out and tried to push the phone away, but it re-emerged seconds later in the same place.
Depute fiscal Alex Piper said the victim was with a friend when she became aware of a male in the cubicle opposite.
"A few minutes later the child looked up and saw a black mobile phone being held from the opposite cubicle, at the top of their cubicle, looking down at them.
"They shouted, 'Go away,' and at the same time they tried to hit the phone away.
"The phone disappeared, only to appear at the same area a few seconds later. They informed staff and police were contacted."
Coull, of Alloway Terrace, Dundee, admitted behaving in a threatening or abusive manner which was likely to cause a reasonable person fear or alarm, by placing his mobile phone over the top of a swimming changing cubicle in an attempt to take a video or photograph of a minor, at Olympia Leisure Centre, on April 14.
Sentence was deferred until May 13 for reports. Coull was given bail with an added special condition banning him from entering the Olympia.
A spokesperson for the Olympia said: "The Olympia has clear and established policies in place that forbids the use of mobile phones and recording equipment in most areas of the venue, including the swimming pool area, spectator area, changing rooms, toilets and fitness gym.
"There is signage in place in all of these areas to warn members of the public of these rules and staff are trained to take swift action to enforce this policy."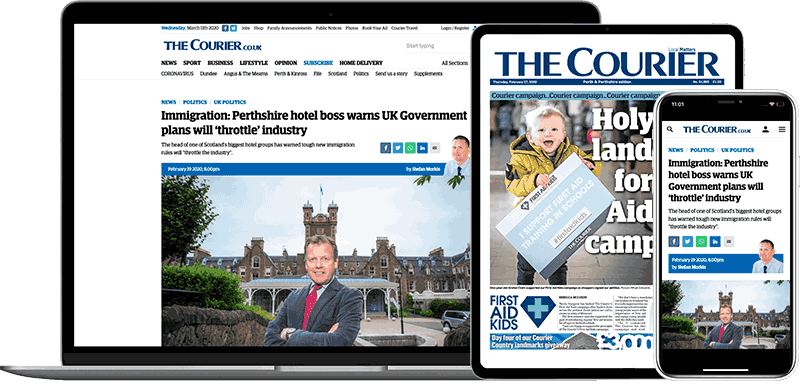 Help support quality local journalism … become a digital subscriber to The Courier
For as little as £5.99 a month you can access all of our content, including Premium articles.
Subscribe