 A prominent Dundee car dealer accused of insurance fraud has had the court case against him deserted.
Charles Sandeman, of Motormile Motors the former Glencross Motors on Clepington Road faced claims that he had obtained cheaper car insurance premiums by failing to disclose information or making false statements to two different companies.
He was also accused of failing to be insured as an employer at Glencross. But a total of six charges were dropped when the case called for the first time at Dundee Sheriff Court.
Some of the charges could be raised again, but Mr Sandeman's solicitor said the case was "deserted" because the Crown had failed to bring it to court in time.
The 40-year-old, of Invergowrie, was accused of inducing Aviva Insurance to provide insurance at a cheaper premium, and obtaining insurance at a cheaper premium, by fraud, at his home address on Braehead Road and elsewhere on March 20 last year.
On the same date, at the same locations, he was also accused of for the purpose of being issued with a certificate of insurance or security withholding information from the company.
Mr Sandeman had also faced a charge of, on July 9 last year, at his home and elsewhere, inducing company Road Runner to provide liabilities insurance.
It was claimed he therefore obtained insurance at a cheaper rate by fraud. He was also alleged to have made a false statement to the same company, on the same date and at the same locations.
The salesman had faced two further charges of, on July 9 and August 20, both last year, he, as an employer at Glencross Motors, failed to be insured.
His solicitor, Kris Gilmartin, said: "I can confirm that the case has been deserted as the Crown had not managed to get the case to court within the time limit."
A Crown Office spokesman said: "It is the duty of the Crown to keep cases under review, and after careful consideration of the facts and circumstances in this case the prosecutor decided that the case should be discontinued meantime.
"The case remains live and under consideration."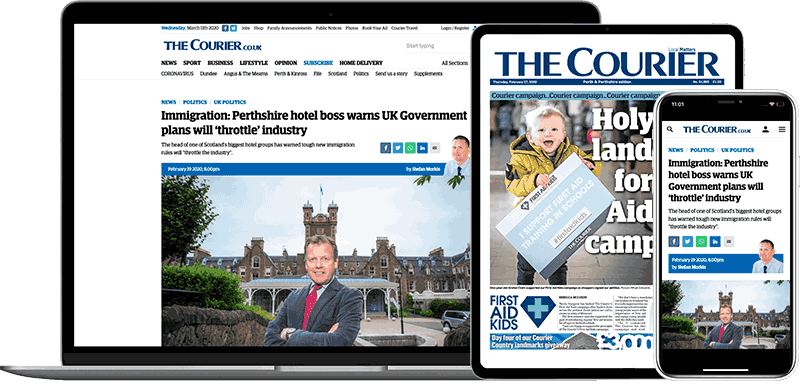 Help support quality local journalism … become a digital subscriber to The Courier
For as little as £5.99 a month you can access all of our content, including Premium articles.
Subscribe