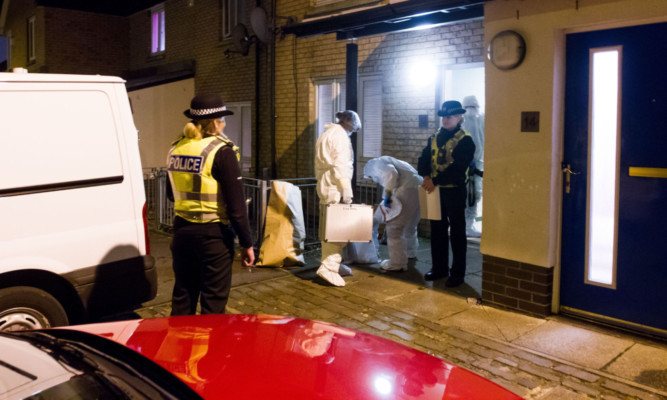 Police officers in Dundee are investigating the "unexplained" death of a 42-year-old man in the city's Ardler area.
The body was discovered in a house on Gleneagles Street at around 2.30pm on Tuesday.
Police officers swiftlycordoned off part of the street while investigations began and a large police presence soon built up at the scene.
Forensics officers arrived to examine the house.
They worked inside theproperty until around 9.15pm when seven officers clad in white protective suits left.
Officers began arriving while many of the street's residents were still at work.
Door-to-door inquiries were carried out and it is understood that they will continue today as efforts are made to establish the cause of the man's death.
Police Scotland could notconfirm whether there were any suspicious circumstances.
A spokesman said: "The deceased was found at 2.30pm and we are treating his death as unexplained."
One man said members of his family had been home all afternoon but had heard nothing.
He said the arrival of police vehicles had been the first sign of anything untoward.
"At first there were just one or two police cars but then more and more began to arrive," he said.
"Officers have been going door-to-door but it doesn't seem as though anyone has been able to tell them much."
Other residents on the street said they too had been unaware of any incident until the arrival of the police.
The dead man is understood to be local to Dundee and the police said they were in the process of informing his next of kin.
A spokesman said the man would not be identified until that had happened.
As with all sudden deaths, a report will be submitted to the procurator fiscal.