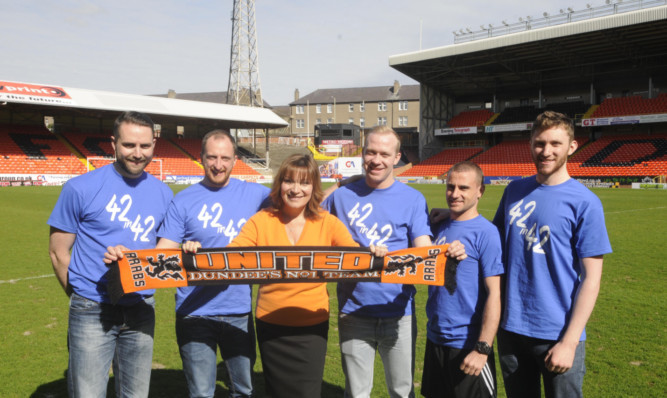 Lorraine Kelly welcomed a group of touring fundraisers to her home football ground of Tannadice when they stopped by on a tour of 42 stadiums in 42 hours.
The famous Dundee United supporter donned her tangerine T-shirt and Arab scarf and together they went onto the pitch and unfurled a banner promoting the JMA Trust, set up in memory of the fundraisers' friend and brother.
John Maurice Aitken fought lymphoma three times in his life before he passed away from the illness last summer aged just 32.
He loved football and also raised money for various charities, so following his death the JMA Trust was set up to continue his work.
The 42 in 42 group, made up of John's brothers Kevin and Ciaran Aitken as well as friends Gordon Moffat, Gary McMenamin and Joe Cranston, were a little a little tried but still in good spirits having set off on Thursday morning and having little sleep in between.
Gordon Moffat said: "We're all a bit shattered. We tried to take turns sleeping but as soon as the sun comes up you can't sleep anyway."
Their fatigue didn't stop them having fun as they posed for selfies with Lorraine, shook hands and even managed to sneak a kiss from the star.
Lorraine said she was contacted by the fundraisers and was happy to support such a good cause.
She was joined on the day by her husband Steve and daughter Rosie.
The boys blue shirts clashed slightly with Lorraine's tangerine top, but Gordon explained the fundraisers had many different coloured shirts to don during the trip.
Gordon said: "It's been brilliant. It's great to see all the clubs coming together for something like this.
"We've not had anything quite this scale at a lot of them. Some of the stadiums up north we visited in the middle of the night so it was just us there.
"We did get a good reception at Ibrox and meet John Higgins the snooker player at Celtic's ground Parkhead. At Hamilton the whole first team met us.
"It has been quite an emotional trip, especially looking through all the messages people have sent.
"When we started on Thursday our social media just exploded. Our donations have gone through the roof. I hope we're going to make well over £10,000 by the end of it."
The group have been posting live updates via a facebook page for the JMA trust as well as on twitter page and are tweeting #forjohn.
As the group set off to their next stadium, Dundee's home ground at Den's Park, just up the road, Lorraine wished them good luck, especially on their 'massive journey' to the next stadium.
At Dens Park young player Kammy Kerr handed over a signed strip to the 42 in 42 boys who have been collecting shirts from each of the clubs they visited.
These, along with other football items, will be auctioned off for the cause at a later date.
Gordon added that the group would be catching up on some much-needed sleep before the celebration party, which takes place on Saturday evening.
Anyone who would like to donate to their cause can do so on the group's fundraising webpage at mydonate.bt.com/fundraisers/42in42.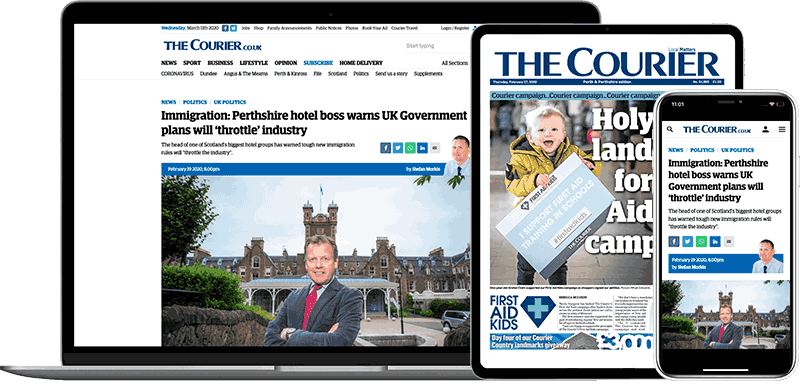 Help support quality local journalism … become a digital subscriber to The Courier
For as little as £5.99 a month you can access all of our content, including Premium articles.
Subscribe