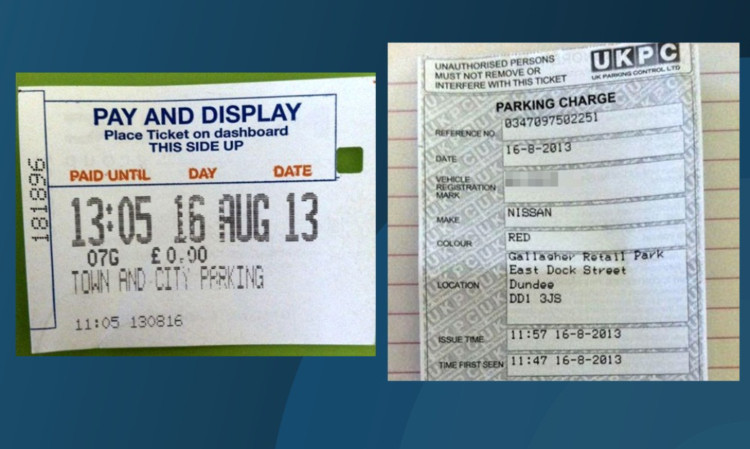 A private car parking company demanded that a driver pay a £15 fine even after being provided with proof that any penalty was invalid.
Aidan Canavan and his wife Kate received a £60 fine from UK Parking Control after Mrs Canavan parked in the Gallagher Retail Park in Dundee to go shopping after visiting her mother.
Documented evidence, seen by The Courier, shows that she took a pay-and-display ticket at 11.05am, entitling her to two hours' free parking.
Despite this, a parking charge notice was issued against her at 11.57am less than an hour into her free two-hour stay.
Assuming UK Parking Control had made an honest mistake, the "bamboozled" couple sent their valid pay-and-display ticket to the company, but were amazed to receive a response asking them to pay a compromise fine of £15 within seven days "in consideration of the information" they provided.
Mr Canavan said: "We sent the ticket to the company thinking that when they saw it they would realise they made a mistake. But all they said was 'We'll reduce the fine to £15', with no explanation. On what grounds should we have to pay £15 at all?
"And then the next thing we had was a note from the debt collectors saying we now owed £160. I'm bamboozled."
After being contacted by The Courier, UK Parking Control said that it would cancel the charge as a "gesture of goodwill."
The firm said: "We have reviewed the charge and as a gesture of goodwill on this occasion the charge has been cancelled."
However, it refused to provide any further information as to why the ticket was issued in the first place or why the couple should have to pay a £15 fine despite providing evidence that the original penalty was invalid.
Mr Canavan, who lives on the Isle of Bute with his wife, said he will now reconsider shopping at the Gallagher Retail Park.
"What really gets me is that we were visitors to Dundee, " he said. "We will stick to shopping in the Central Belt if that's the kind of reception we will receive."