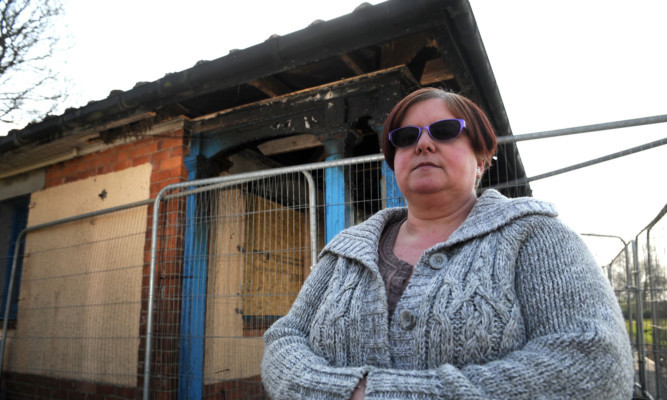 A deliberately started fire which ripped through a building in Baxter Park could have set back three years of work to improve the facilities.
Vandals set fire to a wheelie bin outside a Baxter Park pavilion, causing flames to engulf the former bowling hut.
Dozens of firefighters battled to contain the "big flames" at the old bowling green pavilion, which has been undergoing renovations as part of £3.5 million of lottery funding for the park.
Police are now hunting the culprits behind the attack, but Irene Shearer, chairwoman of the Friends of Baxter Park, said the damage has already been done.
The conservationist believes that the fire could have seriously hurt efforts to build a playpark at the pavilion.
She said: "It's so frustrating, we have spent three years working with the Big Lottery to get the multi-use games area (MUGA) and now a small group of individuals have done this.
"You can't see much from outside but I have seen people carrying out beams.
"Our neighbours who were in the park said it went up with a 'whoosh' and the flames were big from the start.
"This building they set fire to was actually inside the building site so whoever did it had to climb in."
Ms Shearer has been working with the friends group for three years to promote the park and improve facilities.
"This was a building that was secured for future improvements and upgrade to keep the toilets next to the MUGA," she said.
"These were the only toilets in the south side of the park.
"It is absolutely frustrating when this project has taken us three years and then, as it is all coming to fruition, someone comes and burns down the toilets."
Police are now investigating the fire-raising attack and are asking anyone with information about who may have been responsible to contact them on 101.
Alternatively, information can be passed anonymously to Crimestoppers on 0800 555 111.
The Scottish Fire and Rescue Service have also warned of the dangers of deliberately starting fires.
A spokesman said: "SFRS is appealing in particular to young people on school holidays for the Easter break to consider the consequences of deliberately setting a fire.
"We would urge parents to ensure that their children know about and understand the potentially tragic consequences deliberate fires can have, as well as the impact for responding emergency services.
"Fire setting is an offence don't accept it, report it.
"We ask local residents and businesses to ensure that rubbish does not accumulate outside their property and that wheelie bins are stored in a safe and secure area until collection.
"Bin and rubbish fires can quickly take hold and spread to buildings and vehicles, posing a major risk to life and property."