One of Scotland's most influential plays launched at the Dundee Rep last night almost 20 years after it was last performed.
The Cheviot, The Stag and the Black, Black Oil, which will run for three weeks, enjoyed a near sell-out preview night at the theatre.
The play, written by John McGrath, charts the travails of the Scottish working class from the land clearances of the 19th Century to the North Sea oil boom of the 1970s. It was first performed in 1973 and is widely considered one of the cornerstones of Scottish contemporary theatre.
Jemima Levick, artistic director at Dundee Rep Theatre, said "it is hard to ignore the parallels" between the play and contemporary society.
"It's joyous in its approach, employing songs and sketches but all the while depicting incredibly important stories that are forensically researched and fiercely told," she said.
"Even though it's 40 years since the first production, it still feels really current the SNP Land Reform Act, fracking and the recent changes to the Aberdeen oil industry are current news items. It's hard to ignore the parallels.
https://youtube.com/watch?v=O0VdS8RVxD4%3Frel%3D0
"Since the independence referendum, Scotland has felt really politically switched on and I was keen to respond to that in the Rep's programme.
"In many ways Cheviot serves as a state of the nation play, and is one of our best examples of political theatre in the Scottish theatrical cannon, so to be presenting the first professional production in such a long time is a real honour."
The narrative of the play is almost entirely conducted through ceilidh dancing.
Director Joe Douglas said producing the play "comes with a burden of responsibility".
He said: "I believe it's a play very much for the present moment, post-referendum, where people across Scotland are asking very big questions of themselves, particularly questions of politics and identity.
"It often speaks very directly to the audience, not dressing up its ideas in metaphors; at the moment that feels right.
"Dundee Rep is an extraordinary theatre the relationship between the audience and the stage is open and very much two-way, which will be vital to this production."
Tickets for The Cheviot, The Stag and the Black, Black Oil are on sale from Dundee Rep box office. Call 01382 223530 or visit www.dundeerep.co.uk.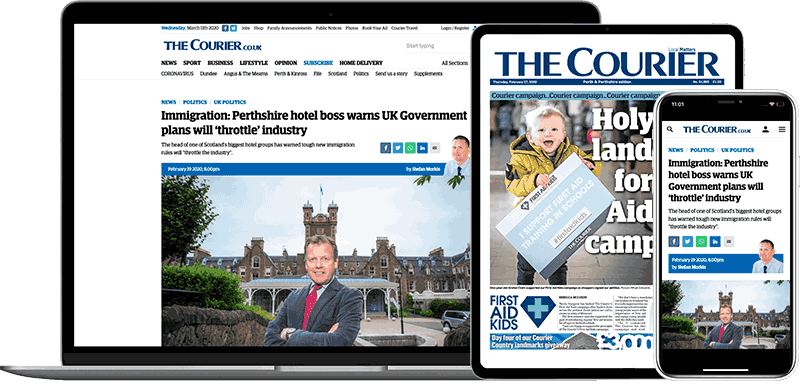 Help support quality local journalism … become a digital subscriber to The Courier
For as little as £5.99 a month you can access all of our content, including Premium articles.
Subscribe